5503 Views
Meet Gaia Ancilotti, our erudite and entertaining City Head in Florence, Italy. Born and raised in the Tuscan countryside, but felt the calling of the "big city" and now calls Florence her home. Gaia has been part of the Eating Europe team in Florence since 2015 when we launched our foods tours in Florence. Now, she not only is helping prepare for Florence food tours reopening, but also hosts online cooking classes and sharing her favorite Florentine cooking specialties from her kitchen in Florence. 
I got a chance to sit down with Gaia this week and discuss her role at Eating Europe and the transition from City Head and tour guide to online experience host.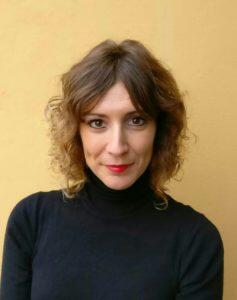 What made you choose this career, managing and guiding food tours in Florence? 
Gaia: I have been a fully licensed tour guide for Florence and its surroundings since 2007 and always included food-related stories and anecdotes in all my itineraries. I am passionate about food (and good wine!) and have always been convinced that it is a fascinating way to learn about the culture and the traditions of a place. So when Kenny, the founder of Eating Europe, in 2015 gave me the opportunity to work on putting together food tours and experiences for the company in Florence I couldn't believe it, that was literally my dream job!
Explain your role and how it's changed since the pandemic started:
Gaia: Before Covid, as the Florence City Head and a regional manager,  I contributed to launch of the food tour operations in many of our new European cities, oversaw the operations in Florence and Naples, and represented Eating Europe at international trade shows. I used to engage with tourists, show them around the city and share fascinating stories that lie behind the Florentine iconic dishes. 
Since in-person tours are not running now due to the pandemic, mostly everyone has moved online and I started hosting online cooking experiences such as Weekend Brunch in Europe and Risotto al Prosecco. 
What is your most rewarding part of being a tour guide/virtual host? 
Gaia: I live by myself, so especially during the strict lockdown, it is the only moment of the day when I get the opportunity to put on make-up, share experiences, talk, laugh, cook and eat a meal with somebody else (even if only virtually!). It also gives me hope for the future when I hear guests overseas talking about how much they miss Italy and how much they look forward to coming back as soon as this is over.
What is your biggest Challenge pivoting online?
Gaia: Technology! Having the right camera, a good microphone, the right lighting, etc requires a lot of online research, price comparison, trying different settings in the kitchen.  I often end up describing with words what the lenses of the camera can't show.
What is your favorite place to travel when not working?
Gaia: Wherever really! In general, I am not a big beach fan, so I usually choose the countryside, hiking, lakes, and cultural destinations. Last year during the pandemic, when leaving the country was not advisable/authorized I realized how little I had traveled around my own country and visited some beautiful regions which I had never even thought to include in my travel bucket list before.
View this post on Instagram
Your Favorite local dish?
Gaia: Lampredotto, a Florentine favorite street food. This may not be for everyone, but you can try this on our Other Side of Florence food tour the next time you visit.
You can join Gaia on our Weekend Brunch Across Europe & Risotto al Prosecco Online cooking classes and join her in-person the next time you are visiting Florence. For some great Florentine inspiration, follow Gaia on Instagram.