3228 Views
This year, on April 26, you'll have a chance to be part of the first King's Day (Koningsdag) ever! Traditionally, the Dutch celebrated Queen's Day in honor of Queen Wilhelmina's, and later on Queen Juliana's, birthday. After the inauguration of King Willem-Alexander last year, Queen's Day turned into King's Day and, although the festivities will not differ much from the previous years, you'll still be able to brag to your kids that you took part in making history! If you're a newbie to the whole Amsterdam-Goes-Orange Madness, below are some travel tips on how to have a blast.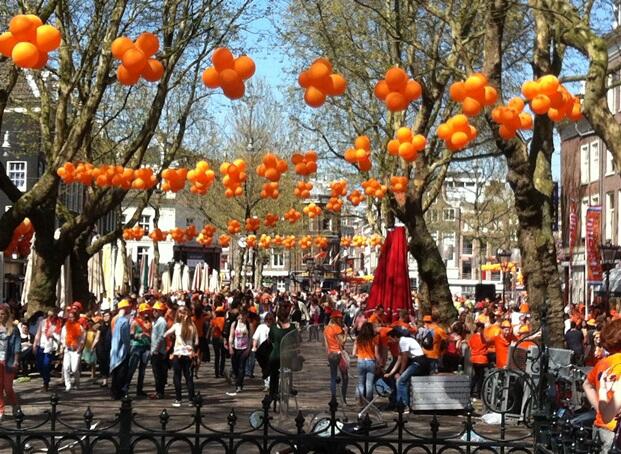 Your Guide to King's Day 2014
For Night Owls Only
Please don't hold your breath until April 26 to get the party started. The night before, so-called King's Night (Koningsnacht), can be even crazier than King's Day itself. Amsterdam clubs and bars go to great lengths to invite the best DJs and musicians for this special occasion, and it's generally easier on your wallet to buy your ticket in advance. Although beer is the beverage of choice during the celebrations, follow tradition and at least try a shot of Oranjebitter. This special liqueur, which is (not surprisingly) orange in color, is traditionally associated with the festivities relating to the Dutch royal family.
Warning: 80% chance of hangover the next day! Don't join dozens of inexperienced tourists and miss the King's Day celebrations because of your headache!
Strolling Along the Canals
For people who dread being late, always lose their tickets, or have a terrible sense of direction, there is no better way to enjoy King's Day than by randomly wandering along the canals. You can join the party whenever you want, you don't need to be in any particular place at any particular time, and there's something going on wherever you are! The only rule is to wear something orange. And don't be shy! The Amsterdam crowd is not a big fan of the "less-is-more" concept when it comes to Oranjegek (orange madness)!
The best part about King's Day is music on the streets, public squares and in the parks. These open-air parties are free, so you don't have to commit to one spot for the entire day. You can just drop by, stay if you like the vibe, or move on wherever your gut tells you to. You might even come back home with some second hand or handmade knick-knacks, as the whole city turns into a giant flea market, with kids selling their treasures to whoever appreciates their (dubious) worth.
If more organized events are your cup of tea, various locations in Amsterdam are hosting festivals and parties with impressive line-ups. Check the iamsterdam website for details and tickets.
Warning: Don't even think about making appointments with friends and finding each other in the crowd. You'll end up walking aimlessly for hours, trying to hear them through noisy cheering and loud music, and that's even if your phone works. Meet up before going to the center and stick together!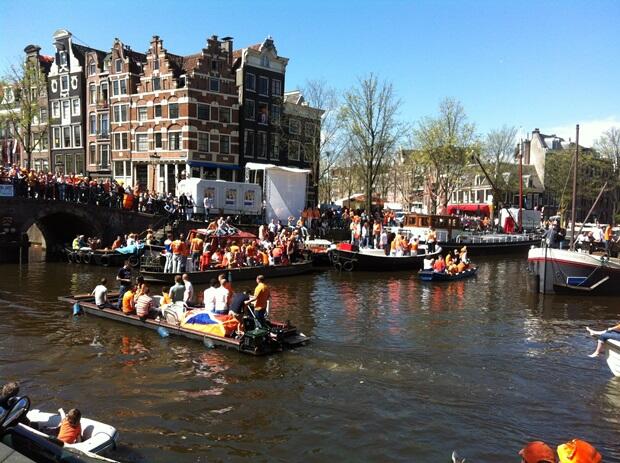 Orange Boats
Every year I enviously watch festive boats packed with people singing and wiggling to Dutch folk music. Renting a boat with a group of friends and watching Amsterdam "from the other side," passing under the canals and waving back to enthusiastic by-standers is still on my list. If this sounds like something you want to get involved in, don't think twice and check out some boat rental websites.
Since steering a boat is not exactly as easy as riding a bike, make sure you'll come back home safe and sound. Do your homework, read some safety instructions and download a map of the canals here.
Warning: There is no way of putting this delicately, so let's just say that being on the boat for the whole day is not the best option for those with a female bladder. Unless your boat is equipped with a mini-toilet, you're pretty much at the mercy of your captain. Plus, when it comes to the weather in Amsterdam, you never know what you're going to get: be on the safe side and equip yourself with a poncho and an umbrella… But make sure you don't break character and buy them in orange!