3123 Views
First things first, it must be said: Halloween is not actually a traditional Dutch thing. Come October 31, you won't see youngsters traipsing along the canals, trick or treating dressed as a zombie version of the girl from Frozen. Luckily for Dutch kids, on November 11, they do get the chance to parade from door to door with homemade lanterns, singing songs and getting candy, all in the name of Saint Martin.
And luckily for you, Dutch adults find pretty much anything a good excuse to throw a party. And thus, Amsterdam has wholeheartedly embraced Halloween as if it were its own. If you're looking for some freaky fun come All Hallows Eve, you won't be disappointed. All around the city, you'll find debaucherous parties, creepy costumes, and slasher flicks… and if you scratch the surface a bit, you can discover the spooky secrets hiding underneath Amsterdam's charming facade.
Look the Part
I don't know how strong everyone's costume game is, but I will be perfectly honest with you – mine could definitely use some work. (One year I was a French girl. My costume was a baguette from the supermarket). But if you rank in the high-achieving end of the self-bedecking scale, you should definitely sign yourself up for one of the "Drop Dead Gorgeous" Halloween workshops. The folks over at Back Stage, a professional makeup store on the Rozengracht, promise to teach you how to transform yourself into anything from the embodiment of rockabilly chic to gothic goddess Morticia Addams, and from an icky Swamp Thing to a gory gaping corpse. You know, the basics. Each workshop costs €49 per person and includes materials, plus you get a goodie bag and discounts on products in the store. Here's the schedule of when everything's going down:
October 22: Rockabilly Horror Workshop
October 24: Monster Makeup Workshop
October 28: Gore and SFX Makeup Workshop
Back Stage – Professional Make-up
Rozengracht 101
+31 (0)20 622 1267
back-stage.nl
Tickets available through Ticket Script or at Back Stage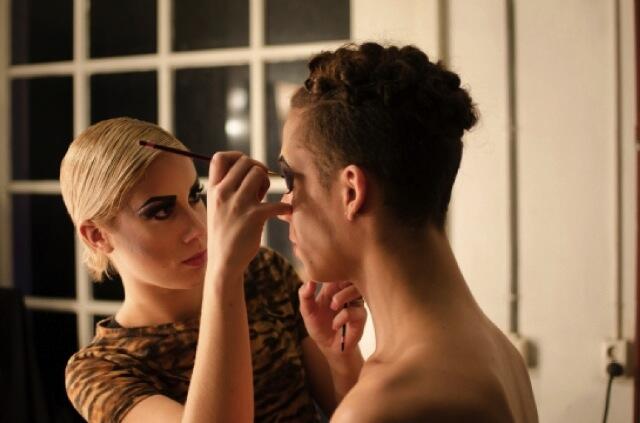 Make Your Spine Tingle
No Halloween is complete without a creepy tale of hidden barbarism… and even though Amsterdam might have charmed you with her long flowing canals and pert displays of tulips, there's definitely an uglier side hiding beneath the soil. You know the Eye Film Museum, located just across the IJ from Central Station? Well, where now stands the curiously shaped Overhoeks tower used to be a centuries-long gruesome spectacle known as the galgenveld which greeted all ships arriving in Amsterdam. From around 1360 to 1795, the city of Amsterdam would display the slowly decomposing corpses of executed criminals, who were often exhibited with either their weapon of choice or a small-scale model of the crime they had committed. And the bodies weren't removed after a time either. They often took years to decompose, and the bones just dropped into a pit underneath. Rather than being regarded as barbarism incarnate, the citizens of Amsterdam saw the galgenveld as a testament to the rule of law in their city. It was actually some sort of a morbid tourist attraction and was magnificently popular until the Batavian Republic shut it all down.
But the creepiest part? Apparently, when they took away the galgenveld, they just covered up the pit with sand. And when construction began on the tower centuries later, crews apparently turned up bone after bone while laying the foundation…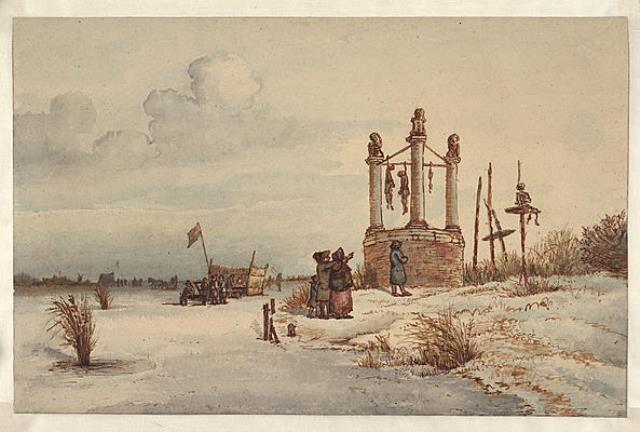 Get Ready to Party
Ok, so you've got your makeup on and you're sufficiently creeped out – now it's time to party!
Since Halloween is on Saturday this year, that means you can start early! On Friday, October 30, head to Melkweg, a club that's an old staple on the Leidseplein. There you'll find the Fiesta Macumba: an ode to the "Dia de los Muertos". Join the crowd and shake your costume to merengue, salsa, reggaeton and dancehall music. Even the poster of this party looks like a ton of fun, so I can only imagine!
Lijnbaansgracht 234
+31 (0)20 531 8181
melkweg.nl
Friday, October 30: 11 pm – 5 am
Tickets available via ticketmaster for €8

Make sure you get in a nap on Saturday afternoon, because you'll need your wits about you for the throw-down spectacle that is Amsterdam Beat Club's "Halloween Hairball". Join the mostly hipster, energetic types at the funky Tolhuistuin for a night of (and I quote) "Crazy Music, Sick Burlesque, Horrific Side Shows, Go-Go-Ghouls, Smelly Food & Rotten Surprises!" Whatever all of that means, this is where I'm planning to be on Halloween night. The party promises to be a parade of campy acts, cult hits and guilty pleasures galore.
IJPromenade 2
+31 (0)20 760 4820
tolhuistuin.nl
Saturday, October 31: 10 pm – 5 am
Tickets available via ticketmaster for €11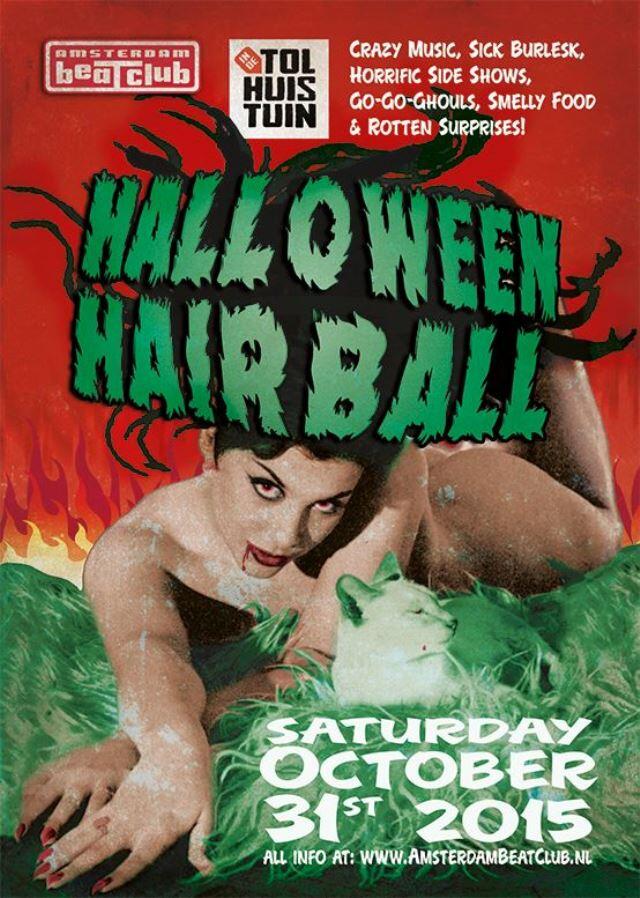 So those were the normal parties, but there's also been quite a lot of buzz around what promises to be the most bizarre one in Amsterdam this Halloween: the Blood Rave. The basic concept? You pay €24.50, go to an (as yet) undisclosed location in Amsterdam, and have blood rain down on you while you dance the night away (sort of like the opening scene of the Wesley Snipes' vampire movie Blade). The organizers of this event have really gone for the less-is-more approach, and are being pretty secretive about how this whole thing will go down (and haven't clarified what the "blood" will actually be). So if you're adventurous… here are the deets!
Undisclosed location
facebook.com/events/119185328427294/
Saturday, October 31: 11 pm – 5.30 am
Tickets available via Ticket Script for €24.50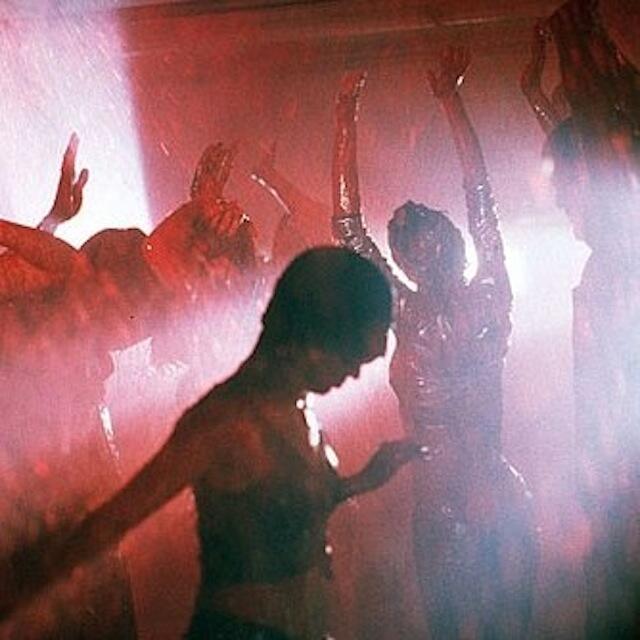 Take a Seat in the Back
Not much of a party type, or just prefer your Halloween a little more scary than social? Amsterdam's also got something for you: Mr. Horror's Halloween Horror Show, a 9-hour marathon of horror and suspense films at Pathé Tuschinski, the glamorous Art Deco movie theater close to Rembrandtplein. Spend the night with some zombies, witches, the Boogeyman, and serial killers.
Regulierbreestraat 26-34
+31 (0)900 1458
horrorshow.nl (website in Dutch, but films all in English)
Viewing times vary