4153 Views
Our Nonnas (Eating Italy's very own Italian grandmothers, who are willing to adopt you too if you'll let them teach you how to cook!) are full of useful information and handy hints. They're your first port of call when it comes to everything from how to impress your date with your pasta-making skills, to how to cut down your time in the kitchen so you can spend more time with the grandkids. We were so impressed with our Nonnas' expertise (let's call it "The Nonna Knowledge") that we decided to ask Nonna Bruna, Nonna Antonella and Nonna Giuliana for their top cooking tips as the ultimate Foodie Insiders. And lucky you, because we love to share!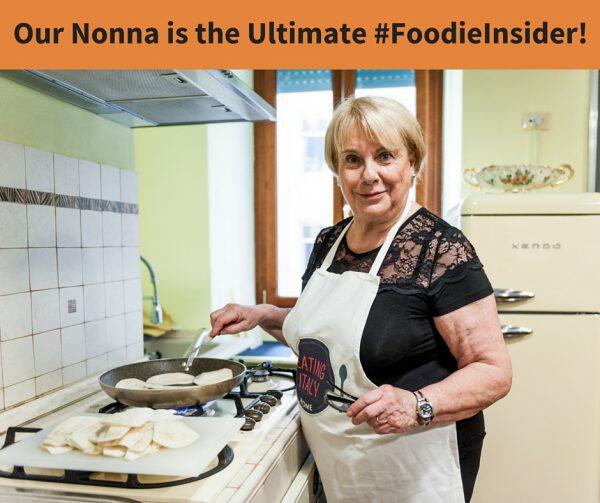 Nonna tip 1: Looking for stiff peaks? A pinch of salt goes a long way!
When whipping egg whites, adding a pinch of salt makes them form soft or stiff peaks (whichever the recipe calls for) in record time.
Nonna tip 2: Accident with the salt mill? Half a potato to the rescue!
If you accidentally over-salt a dish while cooking it, just add a peeled, halved potato to draw out the salt. Works every time!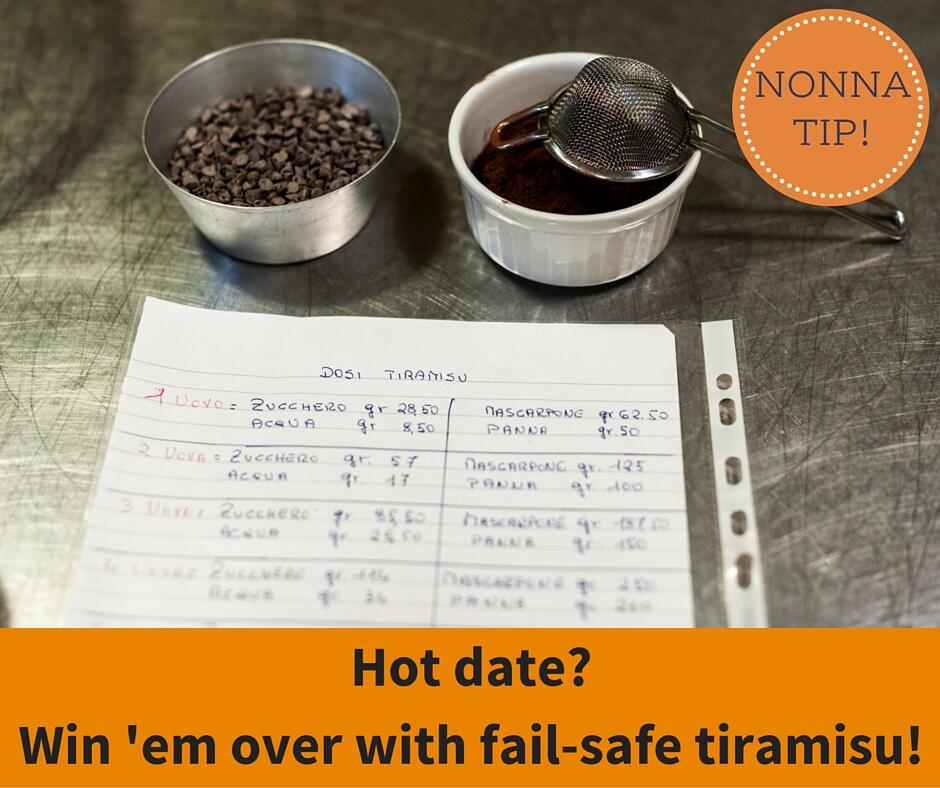 Nonna tip 3: Hot date? At least dessert will be cool.
Tiramisu is a great dessert to make for a dinner party or date, because you can completely prepare it in advance and leave it in the fridge to set for several hours or overnight. But if you're in a crunch and have less than 3 hours to go, put your tiramisu in the freezer and it'll still set in time!
Nonna tip 4: Who let the bugs out? Vinegar and water makes for a clean cauli!
If you're buying your fruit and veg from the local market, there may still be a few creepy-crawlies running around inside. Place your broccoli or cauliflower into a mixture of vinegar and water, and it'll guarantee the bugs crawl out… not pleasant, but definitely necessary.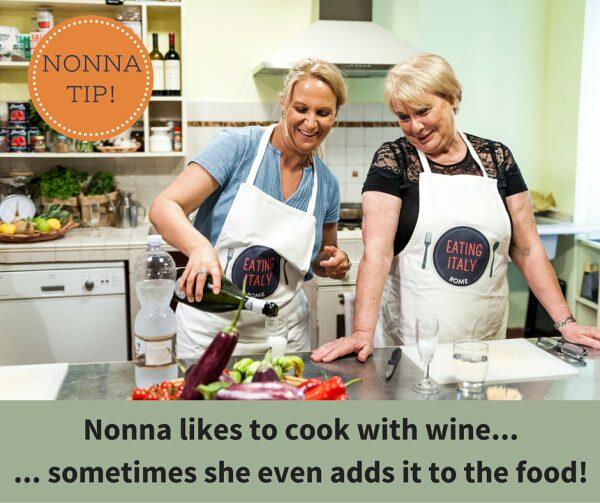 Nonna tip 5: A little Prosecco goes a long way
Wine adds depth of flavor to all sorts of dishes and sauces… but don't use too much in the cooking – the chefs deserve a glass or two as well!
Nonna tip 6: In a hurry? Onions: meet cheese grater
Save time by introducing your onions to your cheese grater. No need for a knife and a chopping board if you can simply grate your onions straight into the pan!
Nonna tip 7: Hate washing up? Who needs a chopping board when you've got scissors!
When tomatoes aren't in season (and shh… sometimes even when they are!) it's ok to use tinned tomatoes. Instead of chopping them up on a board, stick a pair of scissors into the tomato can, and voila!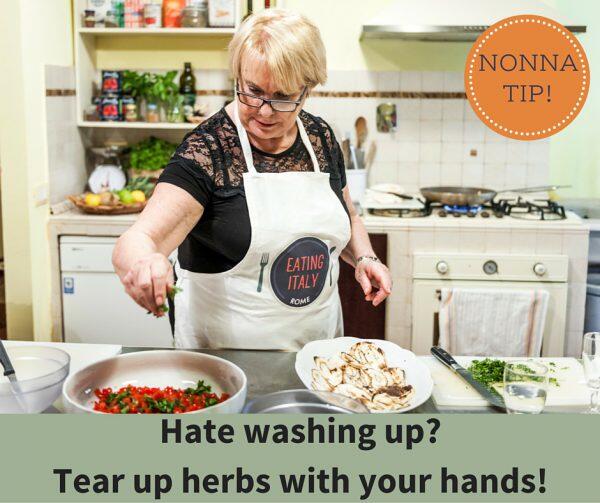 Nonna tip 8: Hate washing up part 2! No need for knives when it comes to herbs
In fact, you can dispense with the knives when it comes to most soft herbs too. Cooking with basil? Just tear it up with your hands – it saves on a knife AND preserves the flavor better!
Nonna tip 9: In fact, forget about chopping herbs altogether – throw 'em in whole!
As you can tell, we're not fans of washing up chopping boards and knives around here. Just tie up a bunch of herbs and throw it in your sugo (sauce). At the end of the cooking process, simply pull out the bunch of herbs after the flavor has infused into the sauce.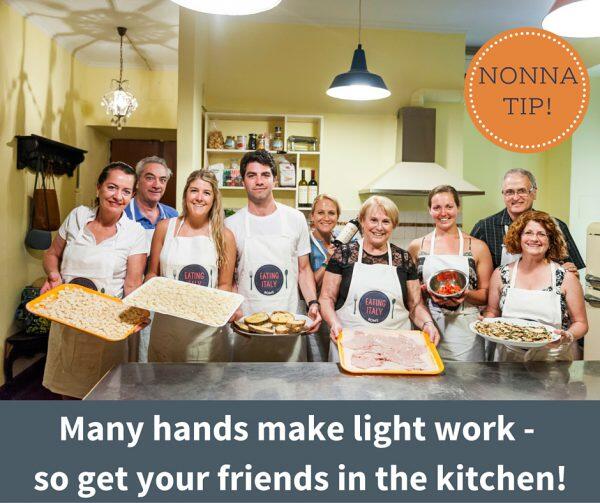 Nonna tip 10: Delegate to your friends and family!
Cooking for a large group needn't be a chore – get your friends and family involved in making dinner. You'll spend time together, create a beautiful meal, AND have fun doing it!
Nonna tip 11: So fresh and so clean: the lemon-dishwasher trick
Ok, so your American/English/Australian/[insert as appropriate] grandma might know this trick too, but did you? Put leftover halves of lemon into your dishwasher to keep it smelling fresh and clean!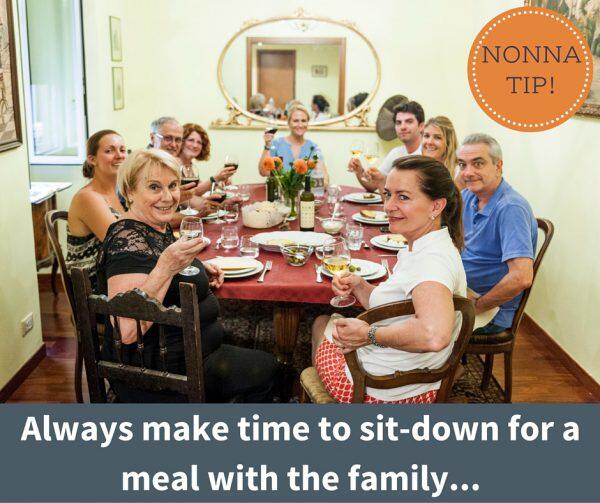 Nonna tip 12: Spend more time with the grandkids!
One of the first things Nonna will teach you in her Roman cooking class is how to make a soffritto: essentially a mix of chopped veges that are fried off to form the basis of a lot of sauces. Once yours is made, you don't want it to burn – so pour a little water in as well so you can abandon it and play with your grandkids!
Want to learn more from Nonna? Join our "Cooking with Nonna" class to spend 4 blissful hours cooking and eating real Roman food with other like-minded cooks and, of course, our very own Italian grandma.