2212 Views
Come visit some of our favorite places in Rome!
Lina & Enzo Salumeria (Delicatessen), Rome, Italy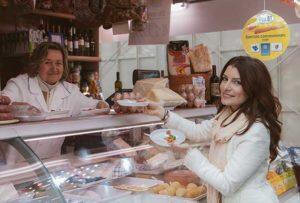 "My husband and I are just like the caprese salad! We're the perfect couple!"
– Lina
This adorable couple has been running their prosciutteria at Testaccio market for the past thirty years and is famed not only for their excellent cured meats and cheeses but also for their friendly, welcoming service. For a true taste of Italy try some of their wonderful prosciutto crudo from Norcia in Umbria along with their super-fresh buffalo mozzarella from Campania.
To find Lina & Enzo Salumeria:
Address: Testaccio Market, Via Beniamino Franklin