3638 Views
Although I can't claim to be very talented in the kitchen nowadays (taste testing is really more my forte'), some of my fondest childhood memories revolve around a good deal of mixing, seasoning, and stirring. Believe it or not, I was quite the little chef. On weekends my mom would pull a chair up to the kitchen counter and let my sister and I flip breakfast pancakes. The highlight of snow days was baking gooey chocolate chip cookies that paired perfectly with a mug of cocoa, and I even went to summer cooking camp where I learned how to make pavlova meringues and the fancy French soup vichyssoise.
Cooking as a child was a lovely opportunity to spend one on one time with my mom, gave me a certain sense of pride when my food was served to others, and also made me much more willing to eat dinner if I had had a hand in making it.
Looking to include your little ones in the kitchen? Start out with pizza, a beloved dish of children and adults alike. Below, some tips for creating the perfect pizza with your budding chef.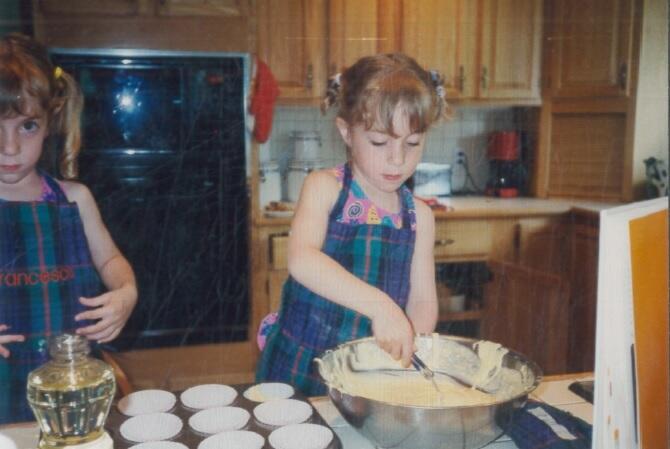 Pizza-Making for Kids: How-to Guide
Dress the part
Pizza making can get messy, so consider finding your sous-chef the proper attire. Ricami Veronica in Rome sells handmade embroidered aprons for kids. If you're not in Italy's capital,  look for one on etsy.com or Amazon. Personalize the apron with a name, or buy a white one and let children decorate it themselves with fabric paint. The finishing touch? A floppy chef's hat.
Ricami Veronica
Via della Croce 77A
Tel 066789184
ricamiveronica.it
Plan in Advance
If you'll be working with very young children or a large group, it might be wise to prep in advance. Do grown-up only steps like chopping veggies and meats and sort toppings into bowls. Dough has to rise overnight so should be made beforehand. Prepping helps streamline the cooking process and prevents kids from getting distracted or bored.
Pizza pizzazz
Let your little ones experience all the tactile verbs cooking entails – they can measure, mix, knead, and roll out their dough, spoon and spread their sauce, and sprinkle their cheese. Make up a pizza bar complete with bowls of toppings and extra sauce. Set out toppings you know your chef likes, but also sneak in some newer, less familiar ingredients like basil or artichokes. This can be a great opportunity to encourage kids to try new foods! Let them personalize their pie and create colorful designs with their toppings.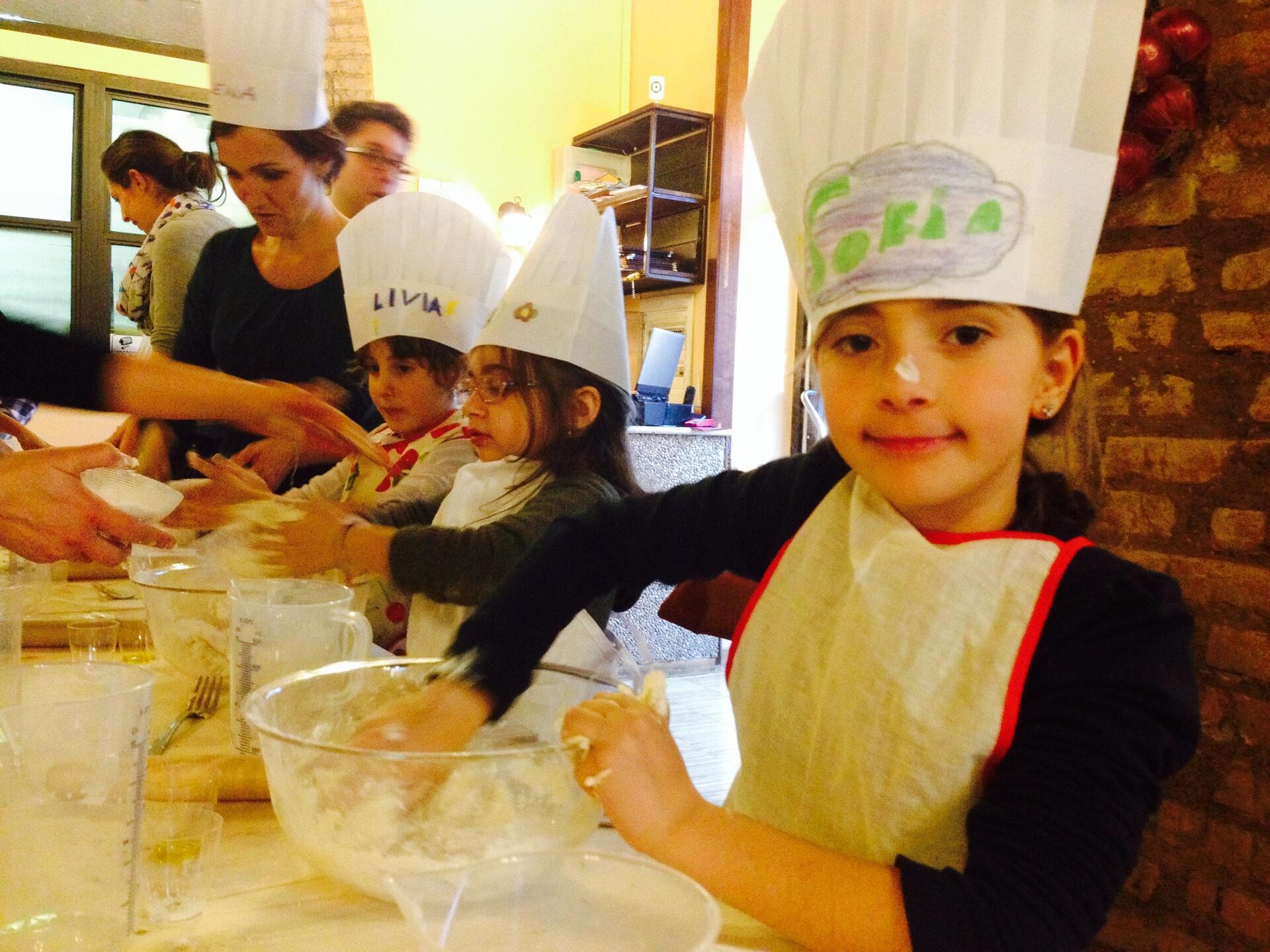 Did you know…?
Share some fun facts about the famous pizza pie with your kids! A few suggestions: the pizza was born in the southern Italian city of Naples. The original recipe just had tomatoes and anchovies – cheese wasn't added until 1889, when a pizza chef named Raffaele Esposito created the margherita pizza (cheese, basil, and tomato) in honor of Queen Margherita of Italy. The most popular pizza topping in the U.S. is pepperoni, while India's is pickled ginger. Brazil prefers green peas.
Clean up!
While your pizzas are baking in the oven, be sure to have kids help clean up the kitchen. Whether it be just handing you dishes to soak in the sink or putting away ingredients, it's important to teach kids that cleanup is an essential part of cooking.
Pizza Recipe for Kids
Ingredients
For the dough:
650g/1lb 5oz Italian 00 flour (strong white flour)
7g sachet of easy-blend yeast
2 tsp salt
25ml/1fl oz olive oil
50ml/2fl oz warm milk
325ml/11fl oz warm water
Topping:
Tomato passata (sauce or puree)
Your favorite toppings
Method
Make the dough: mix the flour, yeast and salt together in a large mixing bowl and stir in the olive oil and milk. Gradually add the water, mixing well to form a soft dough.
Turn the dough out on to a floured work surface and knead for about five minutes, until smooth and elastic. Transfer to a clean bowl, cover with a damp tea towel and leave to rise for about 1½ hours, until doubled in size.
When the dough has risen, knock it back, then knead again until smooth, roll into a ball and set aside for 30 minutes to 1 hour until risen again.
Preheat the oven to its highest setting.
Divide the dough into six balls and roll each out onto a lightly floured work surface until 20cm/8in in diameter.
Spread a little passata (or homemade tomato sauce) over each pizza base and top with your favorite toppings.
Bake the pizzas in the oven until the bases are crisp and golden-brown around the edges and any cheese on the topping has melted.