10457 Views
In my four years of living in Italy, I have inevitably discovered that most Italian stereotypes are false. Garlic is rarely used in cooking, and not all Italian men live at home, nor is everyone in the mafia. One myth though, has proven to be quite true: Italians are, indeed, madly in love with pizza. There are two different types of pizza commonly found in Italy. One is the pizza tonda, or "round pizza" which is baked in a wood-burning oven and eaten at dinnertime. The second, and my personal favorite, is the pizza al taglio, or pizza by the slice.
What is Pizza al Taglio?
Baked in an electric oven, this pizza has a different flavor from its wood burning counterpart, and is available from lunch through midnight, making it the perfect late time snack. Baked in advance, pizza al taglio is a much speedier option: choose your toppings, the size of your slice, pay, and you're out the door. That being said, there are an estimated 5,300 pizza by the slice places in Rome (I told you they loved their pizza here) so to save you some time, I did a bit of investigating and have come up with a humble list of recommendations. My advice? Get a good size piece of something you know you'll like and a smaller piece of something a bit more adventurous (anchovies and zucchini flowers anyone)? You'll thank me later.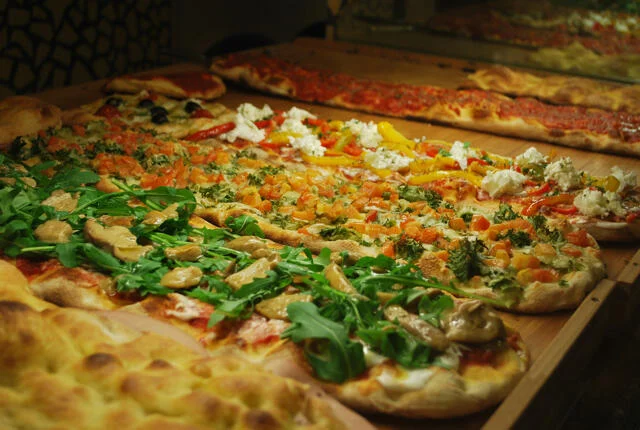 Where to Buy Pizza by the Slice in Rome
Pizzarium
Located a short walk from the Vatican, Pizzarium almost always has a line out the door, and for good reason: their pizza is made with all organic ingredients and their dough recipe comes from owner and famed Italian baker Gabriele Bonci. The menu changes daily, but I always make sure to stop in when my favorite combination of ricotta and 'nduja is available, and they also offer vegan options. A bit pricier than your average pizza al taglio place, but worth every euro.
Via della Meloria 43 (right next to the Cipro metro stop)
Tel 0639745416
Closed Sunday
Volpetti Più
Classic combinations and fresh ingredients are what make Volpetti Più's pizza so insanely delicious – their margherita (mozzarella, basil, and tomato) is just about the best I've ever tasted. Unlike most pizza al taglio places, Volpetti Piu' offers tables where you can sit down, catch up with friends, and truly savor that perfect slice. Tell head pizzaiolo Ottavio that I sent you!
Via Alessandro Volta 8 (Testaccio)
Tel 065744306
Open 10:30 am – 3:30 pm, 5:30 – 9:30 pm
Closed Sunday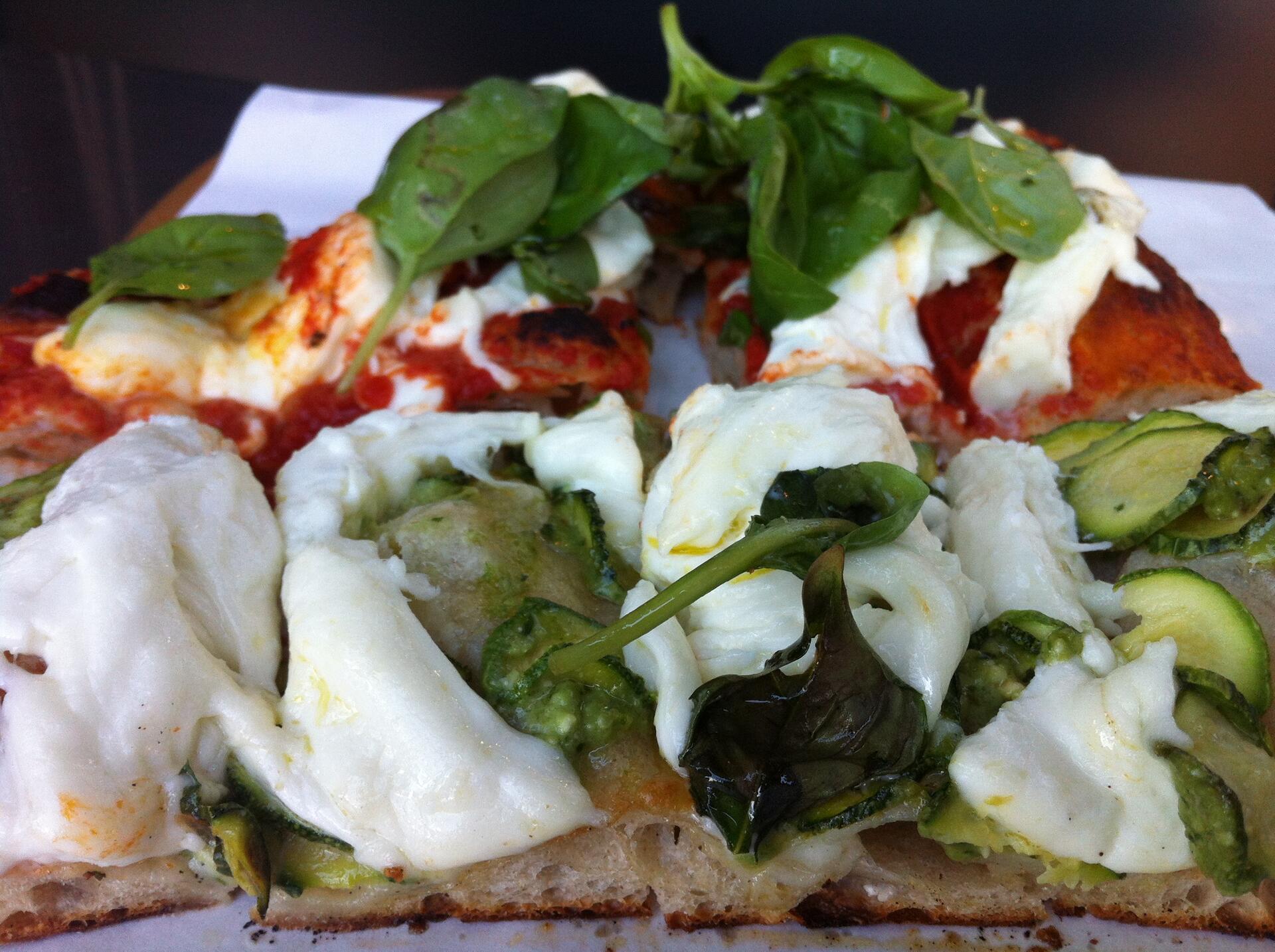 La Renella
If you want to eat where the locals eat, look no further than La Renella. This isn't your average bakery: the oven dates back to 1860 and burns entirely on hazelnut shells in lieu of gas or wood which is said to be more sustainable. After indulging in their savory pizza try their crostata al taglio, or pie by the slice for dessert.
Via del Moro 15 (Trastevere)
Tel 065817265
Open Mon-Sun 7:30 am – 1:30 am
Forno Campo de' Fiori
Open for over three decades, this bakery is legendary for its famed pizza bianca, a fluffy foccacia bread sprinkled with sea salt and olive oil. A classic Roman snack food, wander through the city center with a slice in hand like a true Roman.
Campo de' Fiori
Tel 0668806662
Open Mon-Sat 7:30 am – 2:30 pm, 5:00 – 10:00 pm
Closed Sunday
Antico Forno Roscioli
It's nearly impossible (or in my case, absolutely impossible) to walk past Roscioli without stopping in for a midday treat: the heady scent of baking bread wafts through the air and a bevy of sweets and pies crowd the shop's window. A part of the Roscioli family's small food empire (they also own a restaurant, deli, and wine bar), this bakery has been around since 1874 and is currently run by the founders' three children. Don't let the long lines intimidate you – Roscioli's staff is friendly and efficient, ensuring you'll have that divine slice of freshly baked pizza rossa (or mushroom and mozzarella…or buffalo mozzarella and basil…) before you know it.
Via dei Chiavari 34
Tel 066864045
Open Mon-Sat 7:00 am – 7:30 pm