3768 Views
Amsterdam's ability to move pretty much everything outdoors during the summer is one of the reasons the season is so truly special in the city. We are known for taking our tables and benches outside for a meal, going picnicking in the parks, and overflowing the canals on our boats stocked with drinks and snacks. Even film goes outside in the summer in Amsterdam thanks to the Pluk De Nacht Festival. Celebrating its 11th year in 2014, Pluk De Nacht (which translates to "Seize the Night"), is a completely free open-air film festival which is so very, very, Amsterdam.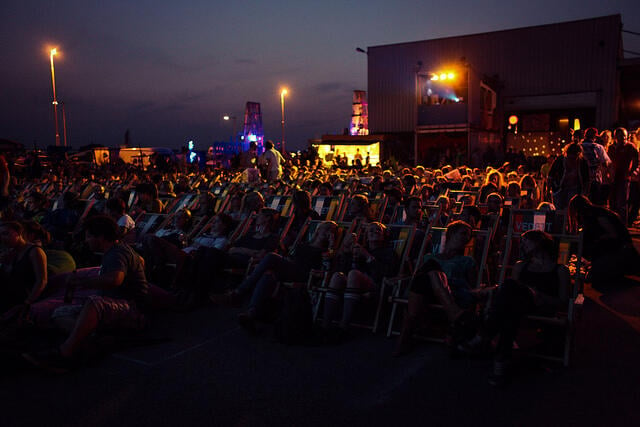 Here are all the details you need to know to enjoy the show.
What: Pluk De Nacht is an 11-night-long festival of independent and arthouse films, short movies, food, drinks and music. Most of the films shown are arthouse favorites of the Pluk De Nacht organizers, selected from film festivals they've attended around the world, or just well-rated independent films that haven't been shown in Amsterdam yet. In addition to the films and shorts, delicious food and drink are served.
When: Pluk De Nacht runs from August 6 – August 16. The festival opens each day at 3 pm, and food and drinks are readily available from 4 pm. Short movies begin around 9 pm, and the main movie of each evening begins once the sun has fully set. After the movie, the "Klup the Night" nightclub hosts a short but thrilling party.
Where: Pluk De Nacht takes place under the stars on an IJ waterfront pier called the Stone Head, approximately halfway between Central Station and the Westerpark.
How to get there: Pluk De Nacht is directly reachable from Central Station by taking bus 48 in the direction of Station Final Empire and exiting the bus at Barentszplein. It is approximately a 20 minute walk or 10 minute bicycle ride from Central Station.
How much: The festival is completely free! Amazing, right? The festival is run by a small army of volunteers and they work hard to bring wonderful film to Amsterdam free of charge.
Food and drink: The festival isn't just about movies, as there are Belgian beers on tap and fabulous food trucks ready to take your order. All proceeds from purchases go towards supporting the festival, so by all means feel free to enjoy a round or two.
Any other things you should now? The festival is free, but to really get the most out of it, it is recommended to reserve a sun lounger ahead of time. This way, you will have a comfy place to sit and watch the show, which will be waiting for you when you arrive. For this service a minimum donation of €5 is required. You are also more than welcome to just show up early with a blanket and pillow and find a place on the grass, if you'd rather. Films are shown either in English or in their native language with English subtitles, and the festival runs come rain or shine (so bring an umbrella!)
For reservation of sun loungers and more information about the films, visit the official Pluk De Nacht website: www.plukdenacht.nl
Photo credits: