4430 Views

The Keys to Unlock the Best Things to Do in Rome
In this 10 part weekly Insider's guide to Rome we share the local secrets and tips for savouring the best things to do in Rome.
So you're in Rome and you want to shop. Today we sat down with interior designer, personal shopper, and former Hollywood executive Arlene Gibbs of Arlene Gibbs Decor.
Here's what this Rome local shared with Rome Food & Walking Tours: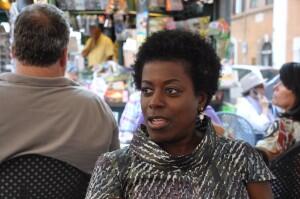 Holidays are expensive, Arlene. If times are tough, what are your tips for finding a bargain in Rome?
I would suggest coming to Rome during the big sales, in January and July. The markdowns are unreal. Romans line up on the first days of sales. It's no joke. Also, the advantage with January is while the weather will be a crap shoot, the hotels will be cheaper as it's lowish season.
I think buying leather is a bargain here in Italy because the quality is excellent and cheaper than what you would pay for it abroad.
There are some great finds at the flea market in the Flaminia area on a Sunday if you're in town. It's open 10am-7pm and located at Piazzale della Marina 32.
My main tip for all Rome shoppers is to try and have the exact change or close enough when paying cash – even at some of the larger stores. Getting change (like lots of ice in cold drinks!) is difficult in Italy.
Also a buon giorno or buona sera (if it's after lunch) when entering a store will get you a long way. Customer service here is different to what you're probably used to back home. In most stores the salesperson will not hover over you unless they are on some kind of commission. Some people find this standoffish or rude. I prefer it as I like to shop in peace.
Ok, what about me Arlene?? I'm travelling in town with my sugar daddy and he'd like to take me through the stylish shopping streets in Rome – what's your style itinerary for the Eternal City??
Stick to the Trident area which was the most important urban reconstruction in Rome realised during the Renaissance. It is made up of course of three shopping streets diverged from the obelisk in Piazza del Popolo and historically they directed pilgrims (these days shoppers!) from the north towards the three principal itineraries of their visit (mainly to St Peter's at the Vatican). It's predominantly the district between Via Ripetta, the ancient Via Leonina, Via del Babuino, Via Clemenza, Via Lata and of course the main thoroughfare of central Rome, Via del Corso.
While some of the big stores on Via Condotti next to the Spanish Steps are international brands like Prada, Gucci, Dior, etc. there are some items that are only sold in Italy and for non-EU citizens, you will get the VAT tax back (make sure you have your passport on you and ask a sales assistant to help you fill out a form).
Oh wait, if you're with your sugar daddy you probably don't care about things like tax breaks. Moving on!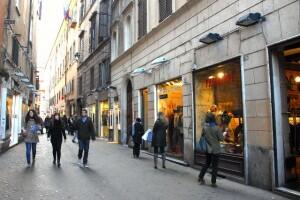 I want some original stuff – where are you sending me for the artisan, odd or quirky shopping items?
There are many great artisan shops in Rome especially in the Monti area.
For some great locally produced stuff and especially for jewellery, head to Via Boschetto.
While it's mainly higher end brands scattered throughout the Trident area like I mentioned, you could still head back there if you're after some unique artisan items. I suggest Via Margutta – made famous in Audrey Hepburn's Roman Holiday. The street is full of antique and vintage stores.
Also Spazio Sette is an amazing store for china, Italian glass wear, kitchen goods and homeware, etc. While it's a little hard to find (near Largo Argentina), try to get down there as it is a great space that stocks beautiful things from Italy and international artisans. It's located at Via dei Barbieri, 7.  Oh and if you're after linen, I suggest you look out for the brands Frette (hands down one of the best Italian brands in the mid-range) and Pratesi (for higher end stuff).
I'll bet you didn't know that….
Many stores are closed on Monday mornings, especially the smaller ones. Most of the large stores or internationally known brands ala Gucci, Prada, etc have sales staff that speak several languages. But don't assume everyone speaks English, especially in stores that are in more residential areas.
Oh and there is some excellent shopping at Fiumicino airport. So don't panic if you've missed or forgotten something – you can pick up just about anything on your way out!
__
Contact [email protected] with Rome Confidential in the subject title for any feedback or requests for a Rome travel topic, attraction, shopping, sightseeing or other thing to do in Rome you want us to cover.
Voted one of the best things to do in Rome, Eating Italy offers a Rome walking food tour through one of Rome's oldest and most characteristic neighbourhoods.