12535 Views
3 Days in Amsterdam? Here are 30 Things to Do

How better to take a break from being a tourist than by asking the locals for their city secrets? Say you've got only 3 days in Amsterdam – that's enough time to get to know the city (after orientating yourself with a food tour, of course!). We've searched high and low for local insiders to find out how they love to spend their free time in the Dutch capital. Here are their suggestions for how to spend 3 days in Amsterdam: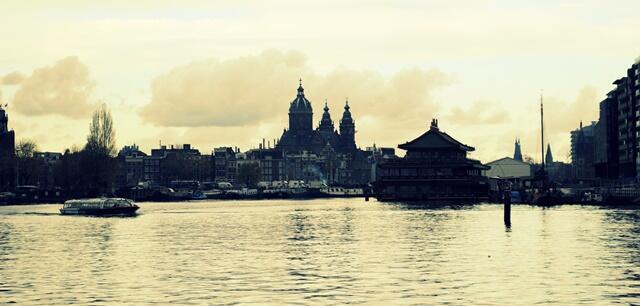 1. Get a group of friends together and let yourself be Sherlocked in Amsterdam's first escape room. You'll be locked into a mysterious room full of secrets and have to solve puzzles to find your way out. – Marjolijn Hendriksen from Locally Yours
2. Position yourself at one of the pubs on the intersection of the Albert Cuyp Market and Eerste van der Helststraat at about 5 pm, when the market is being broken down, and watch the 'market cowboys' whizz around on their little trucks and yell at each other. It's mayhem! — Cathy Leung from So Dam Local TV
3. Head south to the Amsterdamse Bos – Amsterdam's very own little forest. It's got an open-air theater, a working goat farm (try their delicious cheese!), and a fabulous attraction called "Fun Forest" – it's like an adventure playground so big the adults love it as much as the kids… a great day out! – Vicky Hampton, Amsterdam Foodie
4. Check out the Amsterdam City Archives, housed in De Bazel, a former bank in art deco style which has been restored beautifully in a successful mix of old and new. Look at important historical pieces in the former treasury, have a nice lunch as well and don't forget the book and gift shop! – Floske Kusse from City Food Route
**********************
Like this? Check out Eating Europe on social media!
With Dutch foodie ideas, mouthwatering pics and much more, we're on…
Facebook | Twitter | Pinterest | Instagram
**********************
5. Have a picnic on the quay in front of the Hermitage Museum which provides a great view up and down the Amstel River. Afterwards walk to one of Amsterdam's most beautiful green secrets: the Hortus Botanical Garden. – Koen Gijzel from Koentact Dutch Language School
6. Amsterdam is full of weird and wonderful museums. Check out the Pianola Museum in the Jordaan or visit the Katten Kabinet, a museum dedicated entirely to works of art that depict cats. – Jasper Smit from The Bookish Banquet
7. Have dinner at Café Reuring in de Pijp. They only cook with fresh produce and their menu changes every other week so it's always fun to go back and try something new. – Emil Struijker Boudier from the English Breakfast Radio
8. Head Noord to Cafe de Ceuvel. You can easily spend a whole day at de Ceuvel, relax in the hammock on the porch, enjoy the water environment and the great organic food, drinks and live music. Also, amazing sunsets! – Noni May at Amsterdam Curated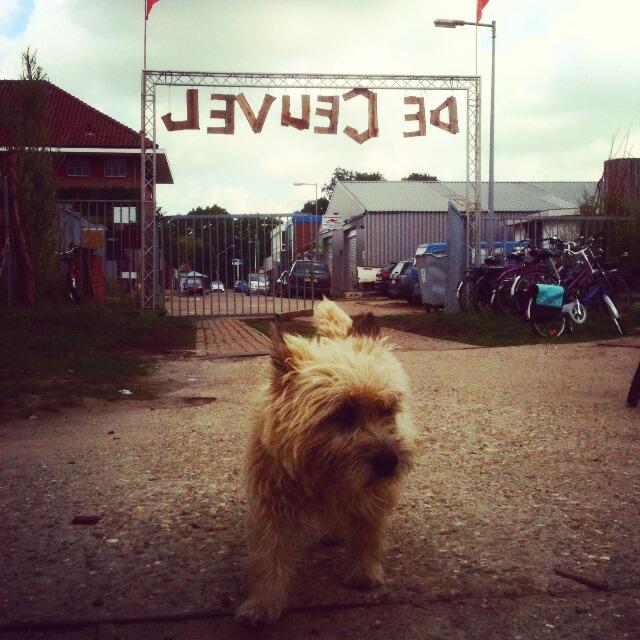 9. Go to Brouwerij 't IJ, for the best beer in town. Enjoy a pint or two on the big terrace and sample some of their delicious sheep cheese, too. And while you're in Amsterdam Oost, try Het Nieuwe Diep in Flevopark, a distillery and tasting room with a beautiful terrace on the waterside. – Marit Beemster from Marit's Huiskamerrestaurant
10. Go and explore the NDSM wharf. There's always something going on there, and you can grab a great lunch at Pllek. – Ashley Howe from Amsterdam Blog
11. Take the free ferry across the Ij to Amsterdam Noord and walk (or cycle) along the Buiksloterdijk and the Nieuwendammerdijk, check out the NDSM wharf or cycle up into Landelijk Noord. – Joseph Segaran, artist
12. Laugh your socks off at Easylaughs' (easylaughs.nl) improvised comedy show, every Friday from 9 pm. Hopefully your 3 days in Amsterdam coincide with a Friday! – Anne de Graaf from Anne Travel Foodie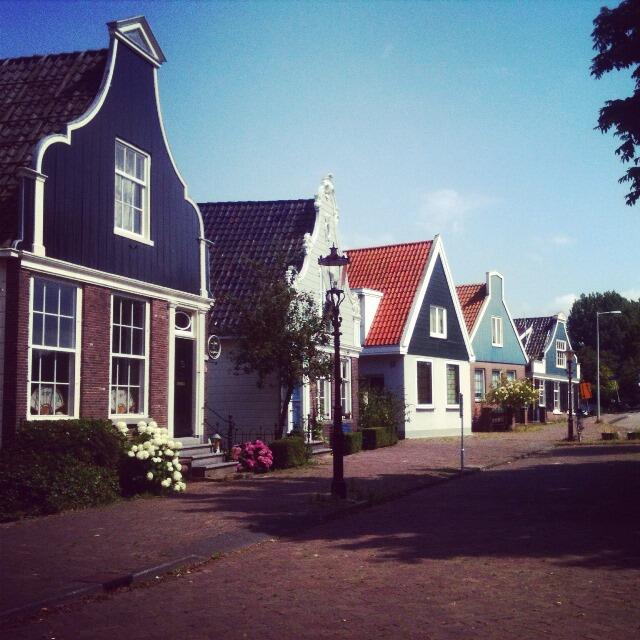 13. I love Amsterdam's architecture and can't get enough of the wonky canal houses with their gabled roofs. However, if you've seen your fill of the historical center and want to experience the Dutch architecture of today head to the man-made peninsulas in the Eastern Docklands. KNSM and Java Island are filled with an eclectic mix of architectural experiments. – Chantal Hintze from The Bookish Banquet
14. Hop on a bike and head to the countryside outside of the city. Go north to Waterland, west along Het Brettenpad all the way to Haarlem, or south to Oudekerk aan de Amstel. – Shoshannah Hausmann from Awesome Amsterdam
15. Get a taste of Jewish Amsterdam by visiting De Leeuw Zuurwaren where they have sold pickled onions, cabbage and liverwurst in vinegar for over 150 years. – Tine Sommeijer from City Food Route
16. Take a food tour through the Jordaan neighborhood – it's stunning by boat or on foot! – Vicky Hampton, Amsterdam Foodie
* * * * * * * * * *
Interested to learn more about the Netherlands through its food? Join one of our Amsterdam food tours to sample the best cuisine the city has to offer!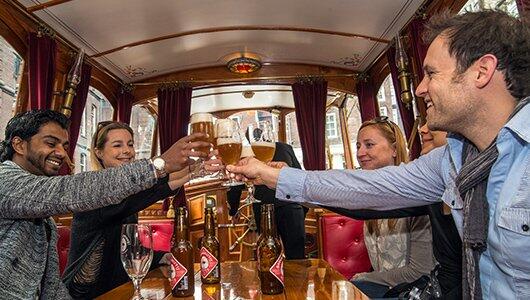 * * * * * * * * * *
17. Head to the De Baarsjes neighbourhood for a taste of local life, in particular the leafy Erasmus Park, which is a lot less crowded than Vondelpark. – Julia Evans from Hungry and Confused
18. Want to listen to Dutch live music in a down to earth location? Head to the Buurtboerderij (neighbourhood farm) in Westerpark. They offer a cheap but tasty 3-course menu and often have live music on Wednesdays and Sundays. – Annamaria Suba from Eating Amsterdam
19. Go to the Anne Frank museum and afterwards eat poffertjes (little Dutch pancakes) in the cozy brown cafe 't Smalle overlooking the canal. – Koen Gijzel from Koentact Dutch Language School
20. Dine with the locals on seasonal dishes such as beetroot stamppot (mash) and pork belly with sauerkraut at Café Kaliber, a charming neighborhood restaurant in Amsterdam Oud-West. The cheese plate is a must! – Cecily Layzell from Eat Amsterdam
21. Check out the monthly flea market at the Ijhallen on NDSM wharf. It's a treasure trove of vintage finds and you can easily spend a whole day trawling through the offerings of the over 700 stalls. – Niels Verkade from Espressofabriek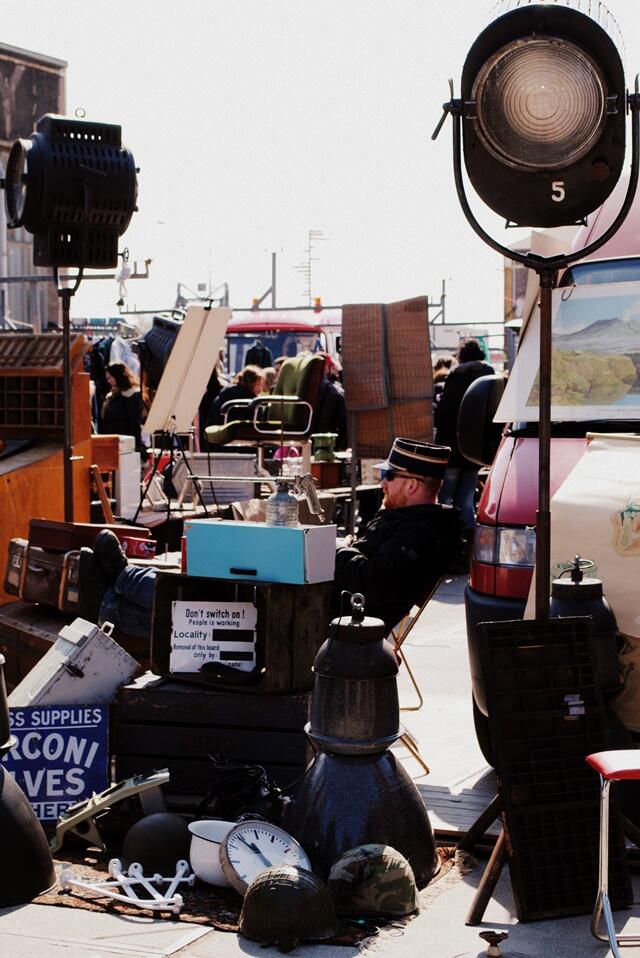 22. Take a whole day to wander the canals and small streets of the city center. Stop in at the most inviting cafes for refreshments and then keep walking. The best way to see Amsterdam is really on foot. Bring your camera or sketchbook and just get lost! – Shoshannah Hausmann from Awesome Amsterdam
23. Your international student card might just be the ticket to a magical experience. From 1.5 hours before the opera/ballet begins, you can get a ticket for €15 with your student card. And if you're lucky, you'll even get a front row seat. A wonderful way to experience Amsterdam's cultural side. – Renee Kemps from Amsterdam Food Stories
24. When in Amsterdam, you should sample some Dutch food. Why not make it a croquette at the Eetsalon Van Dobben on Rembrandtplein? – Jasper Smit from The Bookish Banquet
25. If you are visiting Amsterdam with little ones and you all need a break from the busy city center head to Westerpark. It provides plenty of space to run around, a wading pool for sunny days, a kids' farm with a giant pig, rabbits, horses and plenty more as well as restaurants and cafes with outdoor seating. – Sharon Tainsh from Locally Yours
26. Pick blackberries in Amsterdam's newest park (or if you're visiting in winter, go ice skating there). Schellingwouderpark in Noord was only opened in 2010 and is still quite a secret. The fun begin as soon as you get there because the only way in is via a little platform that you have to pull across the water. – Annamaria Suba from Eating Amsterdam
27. Head West to Café Cook in De Baarsjes. It's a bit further out of the center than most tourists venture and it has a very local, relaxed feel. They have excellent tasty food, both for lunch and dinner – great burgers and broodjes at lunch and the dinner menu changes regularly. Also one of the nicest terraces in Amsterdam (and quietest in terms of car/bike traffic) – Dan Fennessy at Party with a Local
28. Go to Moeders restaurant (Mothers) to get a taste of Dutch cuisine in a dining room covered with pictures of mothers. The reason behind it is that in its early days, every guest who came with (and left behind) a picture of their mother, got a free meal. – Chantal Hintze from The Bookish Banquet
29. I love the Collectie Six, an astonishingly rich collection of art which has been in the hands of the Six family for generations, displayed in their sumptuous family home on the banks of the Amstel. The first Jan Six was painted by Rembrandt, and his portrait is the masterpiece at the heart of the collection. Jan Six the Twelfth was recently born. A little-known secret, only open for a few hours a day, for private tours by advance appointment only. – Marie Phillips, writer
30. Every third Sunday of the month, it's the "NeighbourFood Market" in the Westerpark's Westergasfabriek complex. You'll find some of the best (and the best value) food in the city from the stallholders there. – Vicky Hampton, Amsterdam Foodie