2115 Views
The football World Cup began on Thursday, June 12, with 32 countries from around the globe converging in Brazil to the excitement of fans and World Cup aficionados alike.
Two outdoor venues in Rome with big screens, food and drinks will be:
The Ex-Mattatoio, Testaccio: See their website for the matches that will be shown here.
Black Market Tiber: Black Market, the Monti bar, will relocate to the riverside. See their Facebook event page for game details.
I'm already planning my World Cup watching schedule. Italy versus England kicks off on Saturday playing at midnight Rome time. And because this is Italy, friends have already planned a dinner. Now for me, football is not about great cuisine, but more a case of watching the match down at the pub over a few beers. But this is Rome. And we need to eat. As many of the games will be shown here in the late evening, you may want to eat first, to prepare yourself for the drama to come. So for foodies and football fans to enter into the spirit, why not visit some of the restaurants in Rome serving food from the participating countries?

Where to Eat During the World Cup Games in Rome

Babington's Tea Rooms – England
Serving a proper cup of tea to Romans since 1893, Babington's is a tranquil and oh-so-English corner of busy Piazza di Spagna. Run by founder Isabel Cargill's great-grandchildren, stop here for breakfast, afternoon tea or simply a good brew. It became a"favoured meeting place where ladies or gentlemen, hard at work sightseeing could go to refresh themselves with a comforting cup of tea." Expensive and elegant, but worth the splurge, especially on hot days when there is nothing better than a reviving cup of tea. Or try their delicious range of ice-teas served with the tiniest cucumber and egg mayonnaise sandwiches: completely addictive! Is England really like this? But of course!
Piazza di Spagna, 23
Tel: 06 6786027
Open every day from 9:00am – 9:30pm
babingtons.com

Baguetteria del Fico – Belgium
Beer and sandwiches are always good accompaniments to football watching. So for a quick bite to eat between matches, try this cute but modern hole in the wall. Hidden in a quiet street near Piazza Navona, it serves freshly made-to-order baguettes (there's even a granary variety) with high-quality Italian fillings. More importantly they stock an enormous selection of beer. With more than 150 craft beers, the very knowledgeable and very friendly staff is happy to advise you on which one to try. There are now seats outside in the pretty cobbled street. Sit, sip your beer and lazily people watch as a break from all that frenetic football.
Via della Fossa, 12
https://www.facebook.com/baguetteriadelfico
Kalapà – Greece
Late night crowds flock to this tiny take-away in trendy Pigneto where they greedily scoff Greek salads, souvlaki and pitas at extremely reasonable prices. There are a few seats inside, but these are quickly taken. Eating standing up within the throng, you could easily be at a busy football match for all the noise, bustle and excitement. For something unauthentic, but so good you won't care, try one of their huge baked potatoes loaded with a range of Italian and Greek toppings, my favourite is the Klassika with feta cheese.
Via Ascoli Piceno, 17
kalaparoma.it
Open every evening from 7:30pm – 1.00am
La Cucaracha – Mexico
Recommended by Mexican friend Paula as worth a visit. Typical snacks of course include nachos and tortillas, all washed down with a salty jug of margherita. For a more filling meal, there are fajitas and burritos served with rice, beans, guacamole and sour cream. Bright orange walls, loud music and chat definitely spices up a pre- or after-match dinner.
Via Mocenigo, 10
Tel: 06 3974 6373
lacucaracha.it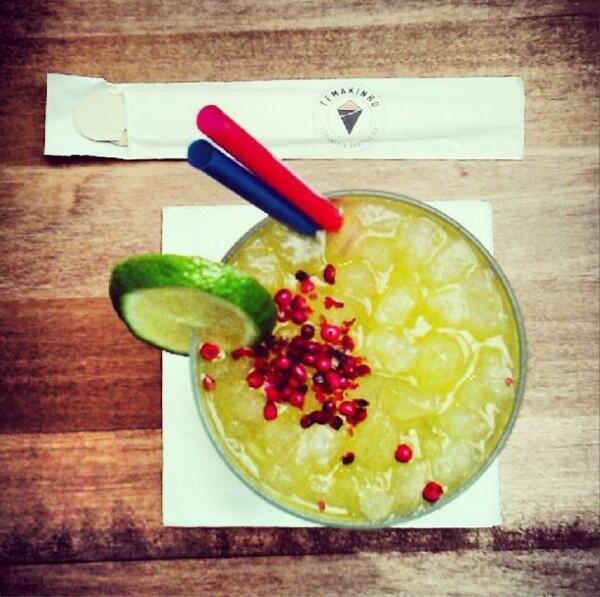 Temakinho – Brazil  and Japan
If you can't get to Brazil, Brazil will have to come to us. This newly opened Brazilian/Japanese fusion restaurant in Monti mixes Japanese cuisine (inspired by Japanese arrivals in Brazil in the early 20th century) with Brazilian drinks and music. Drinks include, of course, the famous caipirinha, Xingu Brazilian beer and energysing, detoxifying fruit smoothies should your poor nerves need bolstering before a match! This small place gets busy so see their website to book a table online.
Via dei Serpenti, 16
temakinho.com