2181 Views
When it comes to sporting events, they don't get much bigger than the World Cup. And with kick off in the opening game now just hours away, it's time to figure out where you'll be watching some of the biggest games in world sport.  Well over a billion people around the world watched the final of the 2010 tournament, between Spain and Netherlands, and viewing figures this year are expected to exceed that figure, with it being estimated that almost half the population of the entire planet will take in some part of the tournament. The only question is, where will you watch it?  Below are a few suggestions for where to be for the games if you find yourself in London over the next six weeks.
Best for the nice weather
The Larrik Inn in Fulham is as good as it gets for watching football in the sun. One of London's few bars with a genuinely pleasant garden area, and this one comes with an outdoor TV. Add to this the fact that it's in the lovely setting of Fulham. The bar also boasts two projector screens and three plasma TVs, so even if the English weather does make an appearance, you'll be well set in The Larrik. As well as the sport, the pub also features a karaoke room, live music and a fantastic menu. If the weather holds, then there won't be any better places in the city to get behind your country.
thelarrikinnfulham.com
425 New Kings Road, SW6 4RN
+44 (0) 20 7371 9585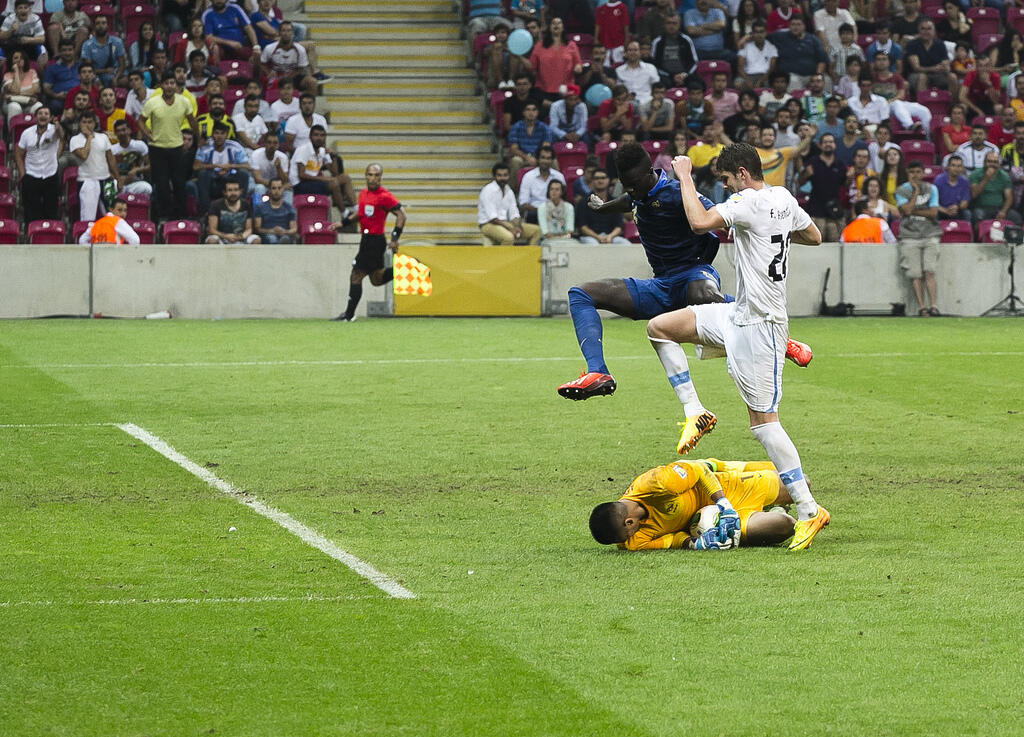 Best for the fans
This is a hard one to call as London is not short of bars and pubs that provide a great atmosphere when the football is on, but Riley's Sports Bar, in Haymarket, is a tried and tested favourite. Recently reopened, this bar gained a reputation as London's premier sports bar in its previous guise of The Sports Café, thankfully though, the new name has taken away none of the experience of catching the games at this bar. With over 35 screens in four rooms, including behind the bars (so you don't even miss the action while ordering a pint), you won't miss a single kick. With 70 sports channels for showing matches, and a central location, you'll also find fans from each of the 32 teams in this bar, a great one to go to if you are not supporting the favourite.
rileyssportsbars.co.uk
80 Haymarket, SW1Y 4TE
+44 (0) 20 7930 0393

Best alternative bar
Far Rockway is an American style bar in Shoreditch's curtain road, with skateboards lining the ceiling and nine screens for watching the games, this is a great place if you fancy something a little different from what you may expect in the capital. The venue has a capacity of 400 and is showing all of the games of this year's FIFA World Cup. Far Rockway also has some fantastic packages for the games, so it's worth checking out their website and booking ahead to get maximum enjoyment out of the games.
farrockaway.co.uk
97 – 113 Curtain Road, EC2A 3BS
+44 (0) 20 8305 3090 

Best for feeling
The Clapham Grand is second to none when it comes to getting that stadium atmosphere. At 24' x 15', the big screen at Clapham Grand is the largest for football in the whole of the UK. On top of this, the seating and bars are tiered, so like at a game you'll have fans behind, in front, above and below you. There are plenty of bars, so you won't end up missing half the game queuing for a drink, and there are also six other screens, just on the off chance you can't see the huge one right in front of you.
claphamgrand.com
21 – 25 St John's Hill, SW11 1TT
+44 (0) 20 7223 6523
Best for private parties
Although huge bars with hundreds of fans from around the world can be an amazing way to watch a game, sometimes a group of friends and your own area is what's called for. Proud Camden is perfect for just this, with seven fantastic areas available for private hire. In the past Proud was a major stable, and these stables are the areas that are now set up for groups to rent out and watch the games in. There are seven stables in all, with a capacity of up to 50 people, so we're not talking about a couple of friends round a small TV with a cup of tea. Each stable also has a 50" TV, so everyone will be able to watch the games. Make sure to book early, Proud is bound to be a popular spot for this year's tournament.
proudcamden.com
The Horse Hospital, The Stables Market, NE1 8AH
+44 (0) 20 7482 3867


One you may have to try
Carslberg have been boasting for years about how they don't do flatmates, pub teams and sports bars, but if they did, they'd be the best in the world. Well, now is the chance to see if they've been telling the truth all these years. Carlsberg Sports Bar at the Empire Casino in Leicester Square is new, and ready for the start of the world's biggest sports tournament. There are screens all around the bar, and it's open 24 hours a day, so you'll be fine even with those early morning kick offs.
thecasinolsq.com
5 – 6 Leicester Square, WC2H 7NA
+ 44 (0) 20 3642 8937
These are just a few of our suggestions, there are hundreds, if not thousands, of bars and restaurants showing the World Cup games in London over the next six weeks. A law in the UK means that all of the games have to be shown, where possible, on free to air TV, so that means that even those places that don't usually show sport may well have the games on. Our advice, find a bar you're comfortable in, and if you want to sit down, get there early. Enjoy the football!