5925 Views
The Eternal City is an amazing holiday destination, especially for food lovers: if you know where to go, you'll find the best Italian food you've ever had in Rome – and for a very reasonable price. However, the city is also visited by millions of tourists a year, resulting in a lot of mediocre, overpriced restaurants and unofficial guides trying to rip you off. What can you do to avoid tourist traps and have an authentic experience in Rome? Let us guide you!
Eat where the locals eat
The problem with finding the best food in Rome, is the overabundance of choice: you'll find a restaurant on every street corner. In general, you can assume that any location that boasts big tourist crowds is not the best place to eat – at least, not in the most obvious places. For example, you'll find plenty of restaurants in Piazza Navona, directly on the square, most of them costing you more than necessary. But if you take Via di Sant'Agnese in Agone and keep going straight for just two minutes, you'll reach Bar del Fico, a great place for aperitivi, lunch or dinner – and for a better price than on the piazza. If you're willing to walk just a little bit further (5 minutes from Piazza Navona), visit Barnum Café: a charming café, restaurant and bar in one with great pasta of the day dishes, juices and cocktails. The same counts for the Vatican: if you're hungry after visiting the Saint Peter or the Vatican Museums, be sure to walk a little bit further, into the neighborhood of Prati, where you'll find plenty of good restaurants. For example, behind Castel Sant'Angelo, you'll find Orto (a great vegetarian restaurant with an amazing lunch buffet for a fixed price), Il Sorpasso (nice pasta dishes for a good price) and La Romana (one of the best gelateria's of Rome).
A good rule of thumb is to not let yourself be lured into restaurants by over-enthusiastic waiters who practically pull you inside: if they need such an aggressive marketing strategy, you can ask yourself if the quality is that good. Also, restaurants that have pictures on the menu or advertise their food with a plate of their signature dish that stands outside are usually not the most authentic places of Rome. These are definitely not the places where locals go to eat, which is a good indicator.
Know the prices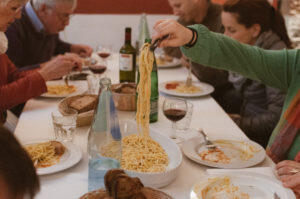 Especially in crowded areas, you will find many different restaurants offering more or less the same menu, but with prices that fluctuate between very cheap to quite expensive. Knowing what 'normal Italian prices' are comes in handy: if you know a coffee or cappuccino usually costs between €1 and €1,50 and a croissant up to €1,50 in normal bars, you'll never pay €15 for an 'Italian breakfast' on a terrace with exactly those two things. Pizza usually costs between a few euros for a slice and €10 for a large pizza with plenty of ingredients. If a simple pizza Margherita costs more than €10, you're probably inside a tourist trap.
To prevent restaurants from earning money over the back of a 'clueless tourist' by adding a little (or a lot) extra on the bill (it doesn't happen regularly but yes, some restaurant holders will do this), make sure you always see a menu with prices beforehand. That way, it's also easier to compare a place with its neighboring competitors and opt for another ristorante if you don't like what you're seeing. If you're unsure about the end total, ask for the receipt (and don't accept one that only has the total price): in Italy, it's obligatory by law to provide customers with an itemized receipt.
The same goes for taxi prices: be aware of taxi drivers, as they're notorious for overcharging tourists. Official taxis should stick to fixed fairs within the city limits: for example, a single journey from Fiumicino airport to the old center should cost around €48; from Ciampino airport €30. To prevent significantly higher prices, be sure to ask the driver how much it costs more or less before you get in. Also, use only official white taxis instead of unmarked ones. Make sure you can pay by card or have small change ready, so the driver can't claim he doesn't have any change.
Watch out for unofficial guides
As for guided tours and museum tickets: there are hundreds of providers of tours, entrance tickets and 'skip the line' tickets, some providing more value for money than others and some of them unofficial, so be sure to do some research before you arrive. At Saint Peter's Basilica, 'skip the line' entrance tickets are available for €20, where actually, entrance to any Roman church is for free – just be sure to come early in the morning or right before closure time to avoid long lines. For museums and other historical sites with an entrance fee, you ideally buy your tickets beforehand online: that way, you don't have to stand in line (or pay tens of euros extra just to "skip the line") and are sure to not pay too much. For example, on the official website of the Vatican Museums, you pay €17 per person for an entrance ticket and €4 extra for the online reservation fee (which is worth it, as you will avoid a line that usually takes around two hours).
Stand, don't sit
In Italy, there are different prices for drinking a coffee while standing at the bar (al banco) or sitting down (al tavolo) in the café or on the terrace of the same place. For the latter, you'll pay a little extra for the service (this will be indicated on the bill as coperto and should be paid per person). Be aware of this, especially if you want to eat or drink in popular places. Some bars and restaurants are very touristy, but worth a visit because of their history, such as Sant'Eustachio with their secret coffee recipe or Antico Caffè Greco, the favorite place for a coffee of many celebrities throughout history. Here, it will make a big difference if you sit down or stand at the bar: at Sant'Eustachio, you'll pay €2,90 for the Gran Caffè (their famous specialty) at the bar but €5,10 if you sit on the terrace.
Visit Rome's more authentic neighborhoods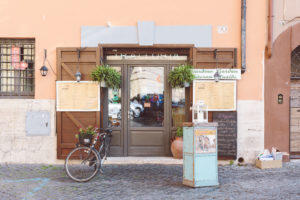 A good way to be sure you don't pay too much or eat in restaurants that are clearly only targeted at tourists, is to not eat in crowdy areas. Neighborhoods like Testaccio, San Lorenzo, Ostiense and Pigneto are full of restaurants for any budget and of any cuisine where you'll definitely find fewer tourists than in the historical city center or around the Vatican. Looking for the best Italian food in Rome and an authentic unpretentious, real Roman experience? Visit Cacio E Pepe in Prati, La Casetta di Trastevere in Trastevere, Ai Tre Scalini in Monti or Qui Si Magna in Pigneto.
Ready for an authentic food experience in Rome? Join one of our Rome-based food experiences and try the best Italian food!