20530 Views
During my three years in Europe I have been fortunate enough to visit some of the most iconic cities in the world, cities some will only ever see on postcards. Barcelona, Stockholm, London, and Amsterdam were all lovely and memorable in their own ways. I am also an avid traveller of Italy and have the privilege of living in one of the most famous Italian cities of them all, Rome. None of these places, however, would be called my favorite city. That honor instead goes to the medieval university town of Bologna.
Why Bologna? Perhaps because it is the capital of Emilia-Romagna, a region in the north of Italy that is known for its ancient architecture, rich food, and the seaside. Maybe because Bologna is legendary for its traditional cuisine (tagliatelle al ragù and lasagne alla bolognese are a few examples of the many.) It could be because it is the home of Europe's oldest university or because of its youthful spirit, rife with concerts and activism and bars. It's also not extremely touristy which lends to a more authentic experience. But maybe it is because Bologna was where I first lived abroad, the place where I truly learned to love Italy, and for that I will be forever biased. Even now, when a Roman tells me they hear a hint of Bologna in my accent, I am secretly proud.
Below are some of the many reasons I will always love Bologna. And I'm sure, after visiting, a little part of you will be too.
1. Bolognese Cuisine
You can't discuss Emilia-Romagna's capital without singing the praises of its food – the two are inextricably linked. Even Romans, notoriously proud of their culture and city, will humbly acknowledge Bologna's culinary supremacy. The city's traditional dishes are certainly richer than its southern counterparts, which is not surprising: it's colder climate requires heavier dishes. Meat, cured salumi, cream, and cheese are common ingredients, perfect for a winter's day (or, anytime, really). There are countless restaurants in Bologna that will feed you well, but below are a few of my favorites. 
La Mela: Despite its central location in Piazza Maggiore, La Mela is far from a tourist trap. Its primi menu is faithful to tradition: tagliatelle al ragù , tortellini in brodo (cheese and meat filled pasta in broth), and tortellini con panna e prosciutto (cream and ham) are hearty and satisfying.
Trattoria da Serghei: One of the best meals of my life was eaten at this tiny five table restaurant. I'd tell you about the menu except there isn't one. This family run restaurant's matriarch decides what to prepare based on what is in season and quite simply, what she feels like cooking that day. Absolutely magnificent eating.
Sorbetteria Castiglione: Hands down the best gelato I've ever eaten (and I've eaten far too many gelatos in my lifetime). While the flavors offered are not extensive, the Sorbetteria has something for every palate. Their tangy tart lemon, creamy white chocolate, and dark decadent cioccolato fondente are swoon worthy.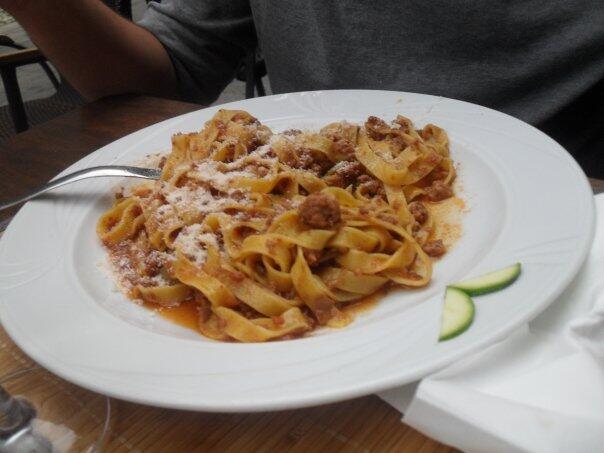 2. Nightlife in Bologna
In Due: Thanks to its student population, Bologna has developed a vibrant and eclectic vita notturna. The quirky In Due acts as a concert space, bar, and is complete with a library and game room. During its daytime hours, it also offers belly dance, salsa, and knife throwing classes.
Momus Cafe: Start your first night out in Bologna at Momus. Bologna's longtime barista Sam has become legendary among students for his "Magic Sam" cocktail, part fruit juice and part…everything else. It had this shy author actually dancing. At a discoteca. And she NEVER dances.
Arteria: If dancing is your thing, Arteria is for you. Their musical selection depends on the day of the week (Wednesday is sixties night).
3. Piazza Maggiore
Begin your walk towards Piazza Maggiore by heading down Via Indipendenza. Packed with restaurants, gelaterias, and all sorts of shops, Via Indipendenza is Bologna's most frequented street. You will also get a chance to walk under the city's characteristic porticos.
At the end of Via Indipendenza you'll find Piazza Maggiore. Despite being built in the 13th century, the Piazza has been impeccably maintained and restored; you'll feel as if you're walking around a Game of Thrones set. Exploring the Piazza could also easily fill an afternoon. Visit Sala Borsa, Bologna's public library, whose glass floors reveal ancient Etruscan ruins discovered while constructing the building. Next wander through Basilica di San Petronio, a gothic masterpiece and the seventh biggest church in Europe. Take a tour of the Morandi Museum, dedicated to the works of modern Bolognese painter Giorgio Morandi and his contemporaries. Last, marvel at the Fountain of Neptune. At night its statue casts a beautiful shadow onto the walls.
If you happen to be in Bologna in the fall, Piazza Maggiore also hosts an annual chocolate festival. If you're planning on going this summer, make sure to catch an outdoor showing of a movie classic at the piazza's month long cinema festival.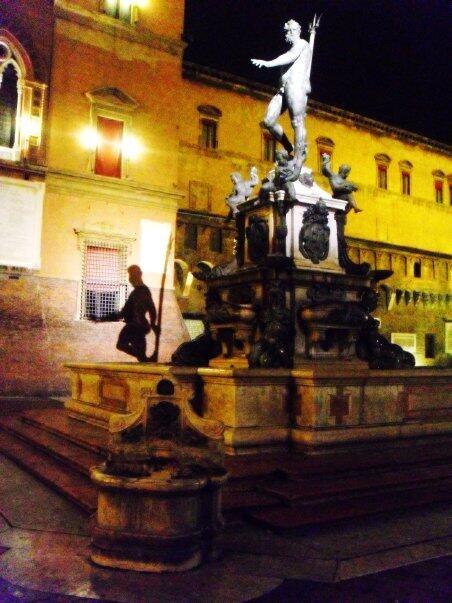 4. Le due Torri
The Garisenda and Asinelli towers are a vestige of Bologna's medieval beginnings: it's said that the two most powerful families in the city had them built in a sort of competition to prove which was the most powerful (it's assumed the Asinelli clan won, as their tower looms above the Garisenda). For three euros you can climb the winding staircase of the Asinelli and will be rewarded by a breathtaking view of the city.
5. The Sanctuary of the Madonna of San Luca
According to legend, the Greek hermit and religious pilgrim Teocle was wandering in the desert in Constantinople when he heard a voice telling him to find St. Luke's painting of the Virgin and infant Jesus. When he obtained the painting, he saw that a message was written on the back, instructing him to house it in a church built on the hills of "Monte della Guardia," which he eventually went on to do. The church has now become a destination for Catholic pilgrims but also a tourist spot. If you don't feel like walking uphill under the 666 arches to the top of San Luca, you can go by bus. Its gardens also prove to be the perfect picnic spot.
Buon Viaggio!
For more of our favorite things to do in the most touristic Italian cities, read our guides on Florence and Rome.