8903 Views
Whether it's the beauty, culture, or refreshing Czech pilsner, Prague offers something for pretty much every kind of traveler. However, until recently it was severely lacking in quality outdoor markets. There are always the markets set up around major holidays like Christmas and Easter, but they mainly offer kitschy souvenirs and seasonal gift items. There just weren't many places to buy local produce besides grocery stores, and the few markets which did exist all seemed to offer the same unexciting inventory.
Luckily, that has all changed. The demand for organic, Czech-grown, Czech-made products steadily grew until some clever, enterprising folks organized the first farmer's markets in Prague. This is a city where locals and expats like to get out and take part in local events, so it's no surprise that these markets have been quite successful. Here's a list of 5 markets worth visiting in or near the center of Prague.
Náplavka (Riverbank) Farmer's Market
This scenic market, located inches from the edge of the Vltava River, has become one of the most popular destinations in town. Even if you're not in a shopping mood, the cobblestone riverside area called "Náplavka" is a great place to have a walk or enjoy a sunny day. Open Saturdays, the Náplavka market has a good variety of vendors selling premium baked goods, jams and spreads, meat, fish, cheese, and at least a dozen places serving up all kinds of food you can enjoy right on the spot. Náplavka gets pretty crowded around midday when the weather is nice, but if you go it will be apparent why. Definitely worth a visit if you can drag yourself out of bed on a Saturday morning after a Friday night out in Prague!
 Located under Rašínovo nábřeží (near Palackého square), Prague 2; nearest metro Karlovo náměstí, exit Palackého náměstí
farmarsketrziste.cz/en/naplavka-en
Open: Sat 8 am – 2 pm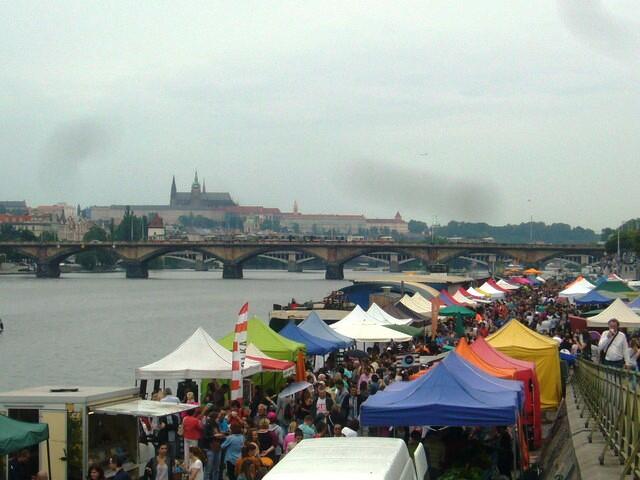 Farmer's Market Na Kulaťáku
Located in the shadow of the Czech Technical University, the Na Kulaťáku market is a less-crowded, but still pleasant place to spend a Saturday. There are about 100 stalls selling produce, meats and cheeses alongside homemade jams, spreads, gourmet imported items and ready-made Czech dishes to heat up at home. I counted at least 2 gluten-free bakeries, and lots of vendors selling cheap plants and herbs to grow at home. There was no shortage of lunch options including burgers, grilled meat, a Croatian grill, pasta, and grilled fish. Na Kulaťáku market also has a children's area with fun stuff for kids.
Vítězné náměstí, Prague – Dejvice; next to Metro A Line stop Dejvická
farmarske-trhy.cz (in Czech)
Open: Sat 8 am – 2 pm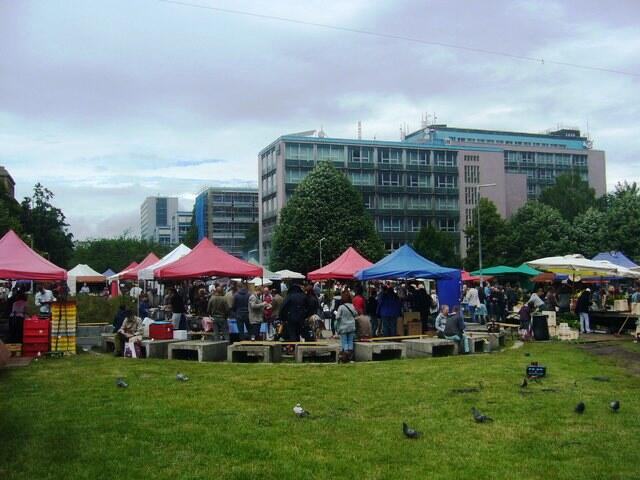 Jiřího z Poděbrad Farmer's Market
Located in the trendy, residential district of Vinohrady, the farmer's market at "Jiřák" square has become one of the busier outdoor markets in Prague. It's ideal for those doing a little shopping on the way home from work, but also has a great selection of baked goods, cakes, smoked and organic meats/cheeses, and several stalls serving hot meals, including goulash and halušky, a Czech/Slovak dish of smoked meat, cabbage and bits of dumpling. The market at "JZP," as locals sometimes refer to the hard-to-pronounce location, is also appealing because of the nearby grass and benches, where you can sit and admire the one-of-a-kind church overlooking the square.
 Náměstí Jiřího z Poděbrad, Prague 3
farmarsketrziste.cz/en/jirak-en
Open: Wed & Fri 8 am – 6 pm, Sat 8 am – 2 pm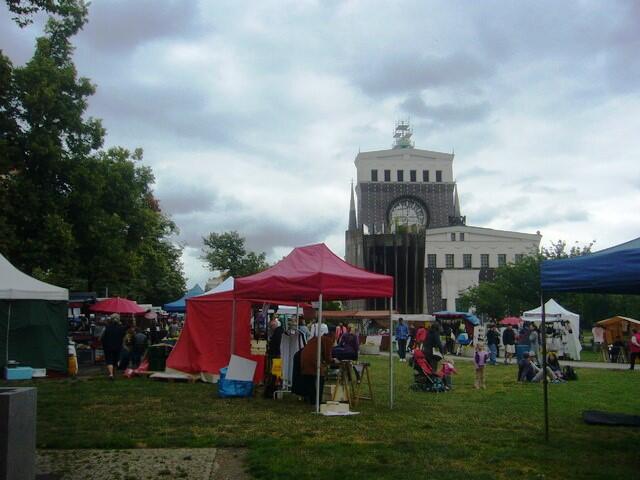 Holešovická tržnice (Holešovice Market)
The largest and best-known outdoor marketplace in Prague's Holešovice district, it is sometimes simply referred to as "Prague market" (Pražská tržnice). It isn't a bad place to go if you're looking for some cheap souvenirs, knock-off clothes, or random items like t-shirts with lewd designs or ninjas throwing stars. Holešovice market houses many larger stores in addition to dozens of stalls and shops, some with specialty items, but mostly cheap knick-knacks or basic household items. There are a handful of stands selling Vietnamese food, kebabs and Czech fast food, and the large hall towards the rear of the market has perhaps the largest selection of produce in the entire city. In terms of atmosphere, there are better markets to visit.
Bubenské nábřeží 306/13, Prague 7 – Holešovice
holesovickytrh.cz (in Czech)
Open Mon – Sat 8 am – 10 pm
Sapa
It would be a shame if I didn't mention Sapa, the massive Vietnamese city-within-a-city tucked away in the south suburbs of Prague. I ventured out to Sapa in search of delicious, authentic Vietnamese food and I was not disappointed. There are about a dozen restaurants and bistros at Sapa serving up Vietnamese favorites like pho soup, bún chả and a crispy duck dish that I cannot recommend enough. In addition to food, Sapa also has plenty of fresh produce, meat and Asian specialty items, as well as clothes, luggage, toys, housewares, and pretty much everything else. Sapa doesn't offer much of a Czech experience, but might be the closest you can get to Vietnam without actually going there!
 Directions: From Kačerov metro stop (C line), take bus 113 to the stop "Sídliště Písnice"
Libušská 319/126, Prague 4
sapa-praha.cz (in Czech)
Open: Mon – Sun 8 am – 6 pm, some shops until 8 pm, some restaurants until 10 pm