63506 Views
We really don't think you or your kids will have a problem getting interested in Italy. There's no shortage of things to know about this old, artistic and cultural country. But still, we thought it would be helpful to create a list of fun facts about Italy to share with your kids, while you're traveling or before you go, to keep their interest sparking and alive.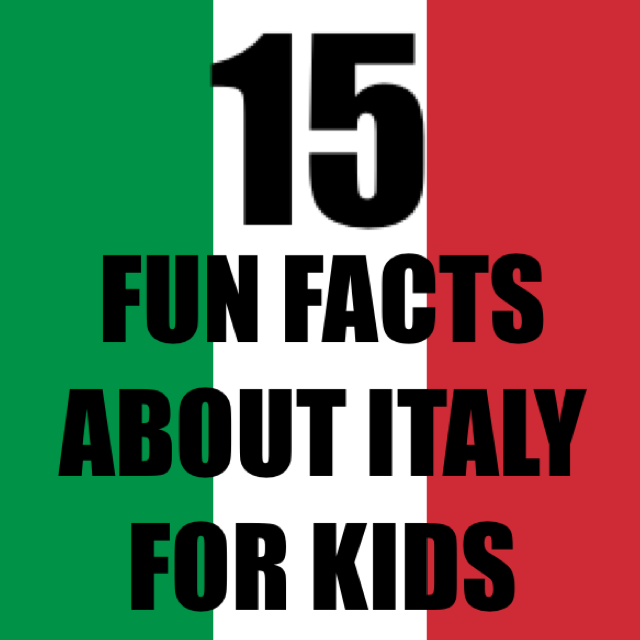 Italy Facts
1. Italy looks like a high-heeled boot jutting into the Mediterranean Sea. The boot seems to be kicking a weirdly shaped ball: the island of Sicily.
2. The country is made up of twenty regions, which often speak in their own dialect of Italian and eat their own regional food dishes.
3. Italy's biggest cities are Rome, Naples and Milan. Florence, Pisa and Venice are a few other Italian cities that are known around the world for their beauty. Read: 15 Places to Visit in Italy


4. Italian is Italy's official language, which has its roots in the ancient and dead language of Latin. If you listen while people are speaking, the language can sound like a song. Many expressions in Italian are accompanied by hand gestures with very specific meanings.
5. Italians celebrate many holidays, and they like to get together with their family to eat big meals. The two most important are Christmas and Ferragosto, on August 15, when everyone heads to the beach. Easter is also a very popular holiday in Italy. Many people come to gather in St. Peter's Square in Rome to see and listen to the Pope. Read: What To Eat in Italy During Easter
Rome History
6. Rome is Italy's capital city and was founded on April 21, 753 BC. That makes the city more than 2,500 years old!
7. Rome was also the capital of the Roman Empire, which was—about 2,000 years ago—the most powerful and rich empire around. The city was full of people who came to worship at the city's famous temples, to shop in its busy shopping streets and to live in its apartment buildings, many of the same things that people in Rome do today.
8. After the Roman Empire fell, Rome became the capital of Christianity. The Pope is still based in Rome, actually in the Vatican City, which is one of the smallest countries in the world.
9. Italy bursted with artistic talents during the years called the Renaissance, 1400–1500s. These were the years of Leonardo Da Vinci, Michelangelo and Raphael, great painters, sculptors and inventors who changed art forever. You can see their famous works throughout Italy and beyond.


10. Italy only became a country in 1861, 150 years ago.
Italian Food Facts
11. Most Italians eat pasta at least once a day. But that doesn't mean they eat the same thing every day! There so many ways to eat pasta, with a variety of different toppings and sauces, that they never get bored.
12. Each region in Italy has it's favourite ways to eat pasta. In Rome, two classics are the carbonara (with eggs and pancetta, which is like bacon) and the cacio e pepe (with cheese and pepper).
13. Pizza was invented in Naples, Italy. There are two classic types of pizza: one topped with a simple red sauce and is called marinara (or rossa) and the other, topped with tomato sauce and mozzarella, is called the margherita after Queen Margherita. But there are many more toppings in Italy than these two. Read: Where To Find the Best Pizza in Rome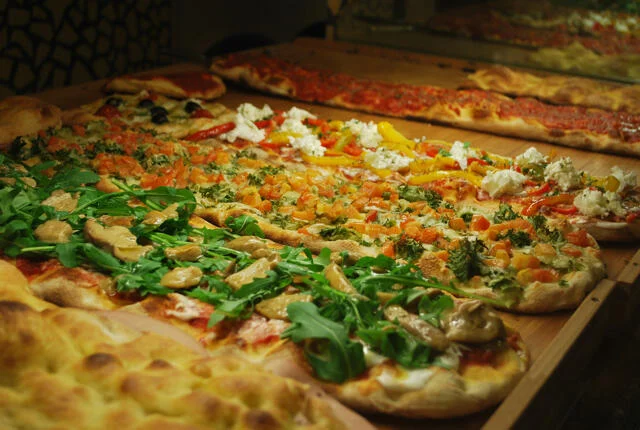 14. Italians eat seasonally, which means the food that is on their dinner table is influenced by what vegetables are growing in the fields. For instance, winter is the time for artichokes and summer is the time for green beans and eggplant.
15. Most people in Italy shop in several stores and outside markets for their food, not one big supermarket. They buy their bread from the baker, their vegetables from the farmer, their meat from the butcher. It might take a long time to do the grocery shopping, but it ensures that all the food is fresh and extra delicious. Read: Italian Food Is More Than Just Pizza & Pasta
* * *
Contact info(at)eatingeurope.com with Blog Enquiry in the subject title for any feedback or requests for a topic you want us to cover. Voted one of the best things to do in Rome, Eating Italy Food Tours offer tours in Rome through the city's oldest and most characteristic neighborhoods.
This post contains affiliate links to products. We may receive a commission for purchases made through these links.